Albion will celebrate its Official Charity Partner for the 2022/23 season, The Cyrille Regis Legacy Trust, with a special away kit honouring the iconic centre forward. 
The custom-made strip, which is modelled by members of the Legacy Trust's 'Strike a Change' programme, features the club's traditional green-and-yellow stripes, and is emblazoned with inspirational Cyrille Regis quotes, as well as his autograph and the charity's logo. 
The club will make a donation to The Cyrille Regis Legacy Trust for every away shirt sold and will support the charity throughout the season with fundraising events and activities. 
WBA italic lettering sits in place of the club crest, as it did on the iconic away shirt worn by Cyrille in the late 1970s.
The new away kit is available to buy now in store and online here. The Megastore will remain open until 9pm tonight (Thursday, July 21) and will return to the new seven-days-a-week opening hours of 10am to 5pm, Monday to Friday, 9am to 5pm on Saturdays and 10am to 2pm on Sundays.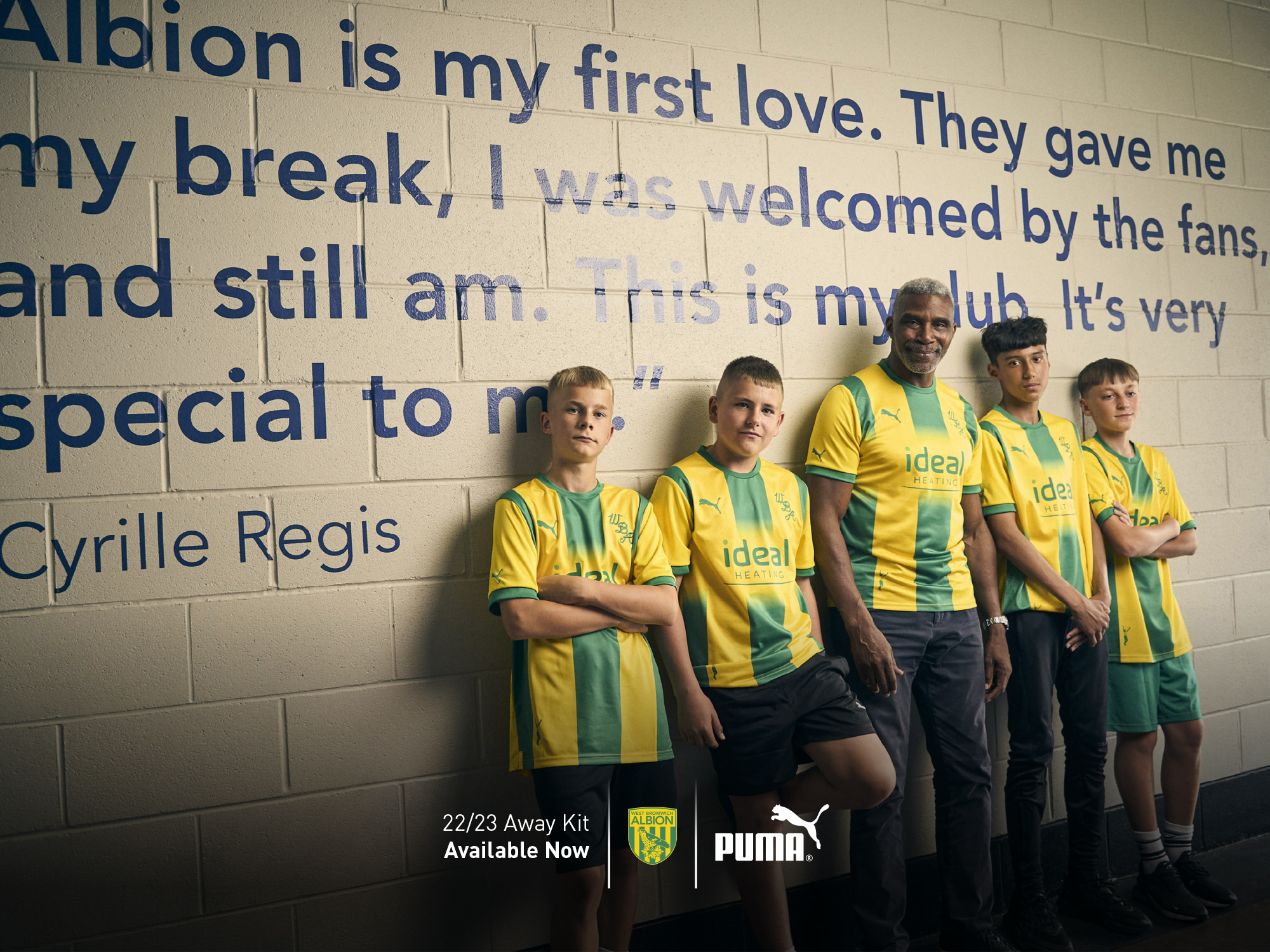 Chief Executive Officer Ron Gourlay said: "I am delighted the club are partnering with The Cyrille Regis Legacy Trust for the forthcoming campaign, and I am sure the away kit will be well received by supporters. 
"Cyrille Regis was a trailblazer and pioneer, and the club remains incredibly proud of his achievements on and off the pitch in the fight against racism. The important work being conducted by the charity ensures Cyrille's legacy lives on and I am pleased we will be supporting their work with young people through their 'Strike a Change' programme." 
Cyrille's brother and Legacy Trust Patron, Dave Regis, added: "We are honoured that the club has chosen to partner with the Cyrille Regis Legacy Trust and have taken the unusual step of featuring the charity on the away shirt. 
"This really does mean so much to us and is in recognition of not just the legacy Cyrille has left but the day to day work we continue to do in his name.
"This partnership is a continuation of the support West Bromwich Albion has given us as a family and in our charitable work in the wider West Midlands community. As a club, they often lead the way and in supporting us they continue to make a difference to the lives of many young people in the region."
Season ticket holders will save five per cent on all official Albion merchandise purchases (non-sale items), including the new away shirt. Ensure you present your stilecard at the till or purchase online using your My Albion Single Sign-on Account.