Single sign on is now available with a My Albion account.
Baggies fans can now use a single online account, My Albion, to access video, match commentary, tickets and online shopping.
Fans who have already created their My Albion account can now link their existing ticket account to login and access their ticketing history, loyalty points and friends & family list. See below for instructions on how to do this.
Supporters who have not yet created a free My Albion account can read on for simple instructions on how to do so.
Please note it is very important that you link the correct Customer Number ID to your My Albion account. if you aren't sure which number to use please contact the Ticket Office before trying to link your account.
Register a My Albion account
Visit login.wba.co.uk and click Create Account

Complete the short form and click Continue. Please use an email address that you have access to as you will receive emails to confirm your account

Check your inbox for an activation email – if you don't receive one within a few minutes contact myalbion@wbafc.co.uk for a new activation link
When activated return to login.wba.co.uk and sign in to your account, following the instructions below to link your ticketing account
Link your My Albion and Ticket accounts
Login to your My Albion account at login.wba.co.uk

Confirm your opt in preferences – make sure you tick YES to emails from West Bromwich Albion in order to receive important updates and offers from the club

Click Link Account Number on your Profile page

If your profile is missing any information (address for example) you may be prompted to complete the details at this stage

Click Link your Current Member Number here on the Linked Accounts page

If you have not already linked your Customer ID number to your account you will be directed to tickets.wba.co.uk. Add your Customer ID Number (starts with a 2 or a 3) in the box and click the red Link button. If you do not know your Customer ID number, see below for where you can find it on your stilecard or contact tickets@wbafc.co.uk. If you do not have an email address on your ticketing account you won't be able to link, please contact tickets@wbafc.co.uk to add your email address to your ticketing account
If you have purchased tickets with us before but it will not let you link your account please DO NOT create a new ticketing account as you will not be able to access your previous purchase history. Instead contact the Ticket Office for support.
When visiting shop.wba.co.uk click on the log in icon on the top right corner of the website and then select 'Login with your My Albion account' and click Continue. You will be redirected to login.wba.co.uk where you just need to enter your email address and password if you have already created your account.
Troubleshooting
If you can't create a My Albion account with your email address it may be that it is already registered to another account. Each My Albion account must have a unique email address

Generic addresses like info@ sales@ admin@ won't be accepted, please ensure you use a personal email address

If you cannot link your My Albion and ticketing accounts it may be because the account details don't match, please contact tickets@wbafc.co.uk to ensure we have the most up to date information on your ticketing account
If you don't receive your activation or password re set emails please check your junk folders. If they are still not received please contact myalbion@wbafc.co.uk
If you link your My Albion account to the wrong ticketing account please contact tickets@wbafc.co.uk and we can correct for you
Click here to read Frequently Asked Questions
Click here to view a step by step guide
Where can I find my Customer ID Number?
If you are a season ticket holder it will be printed on your stilecard, please see an example below.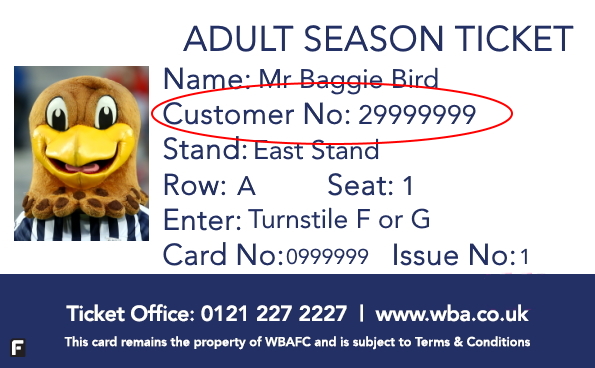 If you have purchased tickets in the past, or cannot find your stilecard the number will be printed on a previous match ticket or confirmation email.
Alternatively contact the Ticket Office on 0121 227 2227 or email tickets@wbafc.co.uk