Josh Griffiths says he is benefitting from the pressures of holding down Cheltenham's No.1 spot this season. 
The 19-year-old keeper is currently on a season-long loan with the Sky Bet League Two outfit and has been a mainstay during their promotion push this term. 
The Albion youngster has made 24 appearances, keeping 11 clean sheets in total during his first move away from the Baggies.
And Griffiths believes the regular involvement in a first-team environment will only benefit his future progression at The Hawthorns.
Q: You've been first-choice keeper at Cheltenham and have kept 11 clean sheets so far. You must be delighted with that?
JG: Clean sheets are always nice but the main goal for me was to get out and play as much as possible. To play that amount of games has been brilliant and I couldn't have asked for much more and our form and position in the table has been good so an all-round pleasing start.
Q: Were you keen to go out on loan before this season or was this year the right time?
JG: There were talks about it in January last season but as long as I was playing I didn't mind. I was playing in the under-23s last year so I didn't mind but once we'd got promoted, the main goal was to get out on loan and play some men's football.
Q: Would you say the faith placed in you at Cheltenham playing as No.1 has been the most pleasing aspect?
JG: It's always nice when the manager plays you and it's nice to be trusted by him and the staff at Cheltenham and from West Brom. They recognised that for me to go out on loan would be the best way for me to develop and I was grateful to them for pushing to get me here.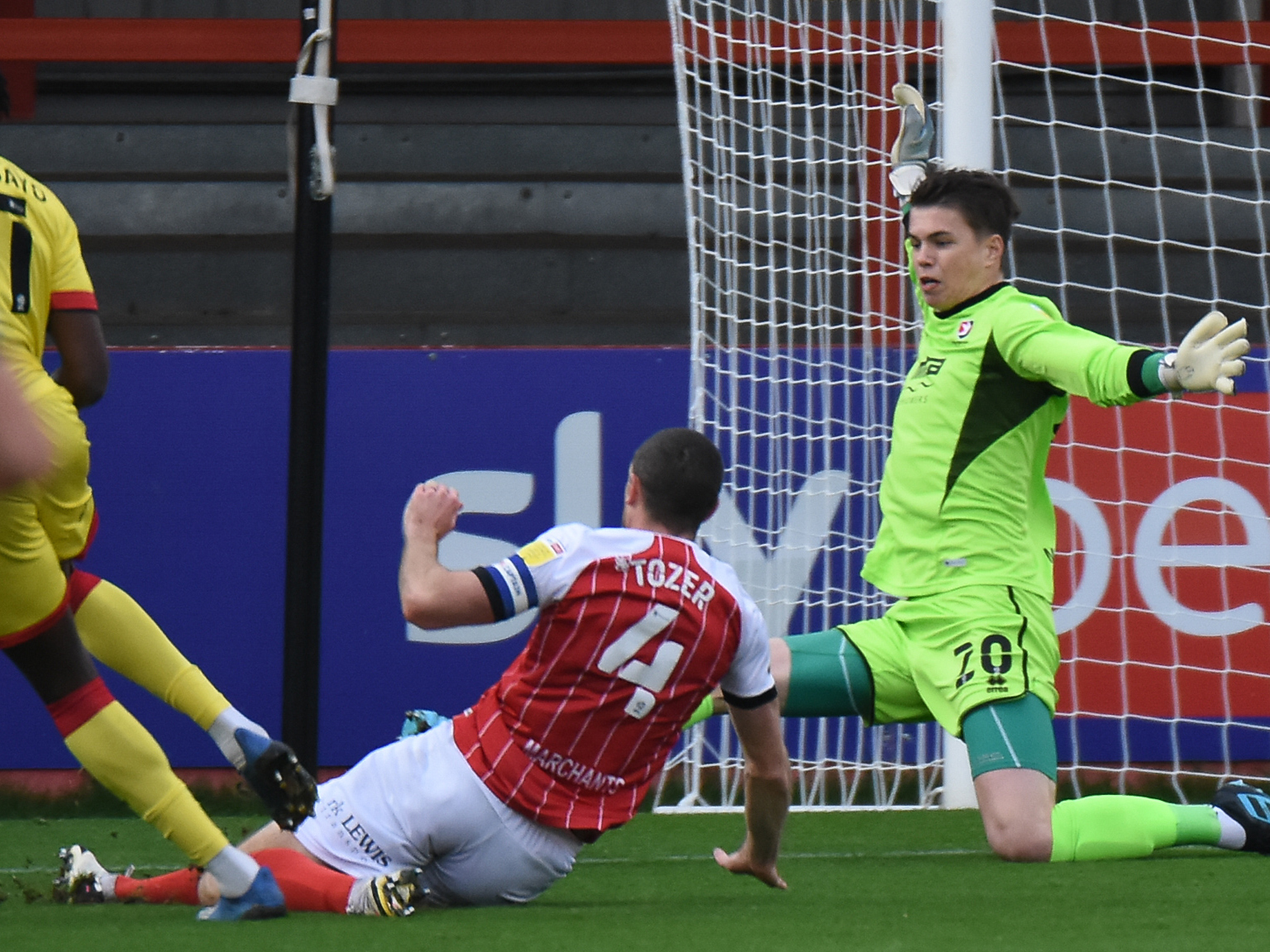 Q: Has the atmosphere in a first-team environment been completely different to the Academy?
JG: Definitely. It's a bit more ruthless, more black and white which is good because honesty is always the best way. I had a taste for it last year being with the first team at West Brom to get me used to that first-team environment. But here it's been a real eye-opener for me and I've enjoyed the ruthlessness of men's football and trying to do everything possible to get three points.
Q: Is that openness something you've experienced at Cheltenham already with the staff there?
JG: When I first came in the manager said what he wanted from me and that was exactly what I needed in order to go in and know how the team played. At any club you'd hope to get honest feedback and them telling you what you've done well and vice-versa as to where you can improve and help the team.
Q: When looking back on games after a mistake, is it a coach, your family that help with that, or can you be your own worst critic at times?
JG: Haha, yes and every goalkeeper will probably tell you they are their own worst critic. Obviously, you know when you've made a mistake but it's up to you to deal with it although there is people around you like your coaches and family that can help. But it's all part of learning and particularly for me who's a young lad out on loan because mistakes are going to happen. You just have to learn from it and move one and do better in the next game.
Q: Confidence is paramount for every player - has that helped you when communicating with a different defence in front of you?
JG: Whatever team you're playing in, if you're doing well and winning then as a goalkeeper you're always going to be confident. Going into games I'm always confident in my ability anyway, as I think any other keeper would be and if you're not confident going into games, then it isn't a great start.
But it has improved my communication and getting used to a new style of play and getting used to different players so that's been another real positive.
Q: Would you say the experience of some of the outfield players has benefited you in a way you might not have thought it would?
JG: 100% because their experience has helped me massively and when I came in during the first few games, they were getting used to how I played and it was the same with me for how they played. They've always asked me what I want from them and said what they want from me so straight away we had a good understanding.
Q: How important has it been training with different levels of experience in the goalkeeping position?
JG: Very, and with different coaches too you get a different opinion and a different view. Scott Flinders at Cheltenham has played around 500 league games now so his experience has been massive and it's been great working with him. He's helped me obviously has different qualities to what a goalkeeper at West Brom like Sam [Johnstone] would have. So learning off the likes of those two over the last few seasons has been really good for me.
Q: Has the competition for places given you a different kind of pressure to handle that you wouldn't have got before?
JG: Exactly that, we're all fighting for the same spot. You're, of course, respectful over it and we understand how each other work but we're pushing to start in the league and cup games so it is a new challenge, but it's only positive for the goalkeepers here to make each other better and push one another. 
You've got to keep your shirt and have to play well to get a result for the team. If you're not, then you've constantly got to be knocking on the door and training well to push the goalkeeper that is starting. It is a bit different in the 23s because it's more a case of balancing game-time but in men's football, that isn't guaranteed.
Q: As a goalkeeper sometimes you're constantly watching, so would you agree your position requires an immense amount of concentration?
JG: Yes and it couldn't be put any better. Especially at Cheltenham we've been doing well so far and in a lot of the games, I haven't had much to do, as a fan might look at it anyway. But I've had the ball at my feet and sometimes you go a while without making a save, so you have to find a way of concentrating. Whether that's communication or your starting position, for a goalkeeper it's massive.
Q: You got called up to the last England U20s training camp before the end of 2020. How much did you take away from that?
JG: It's always good when you meet up with the best players in England for your age and it's always a good test to see where you're at. The sessions are intense, there's a lot of work with the ball at your feet so that was good for me to get something a little different to what I'd get at Cheltenham but it was an enjoyable few days.
It's good to have different skills because in all the different teams you play in, they're going to have their own ways so it's just adding to your skillset playing with England. It's not more risky in possession, but in terms of playing out from the back it definitely tests me but I really enjoy it. Everyone has their own opinions about playing out from the back; some people love it, some hate it but I love it and it's good to put yourself under a bit of pressure.
Whenever you're away with England it's always an honour and you feel privileged to be there so when it comes to games there's always a bit of extra pressure because you're representing your country.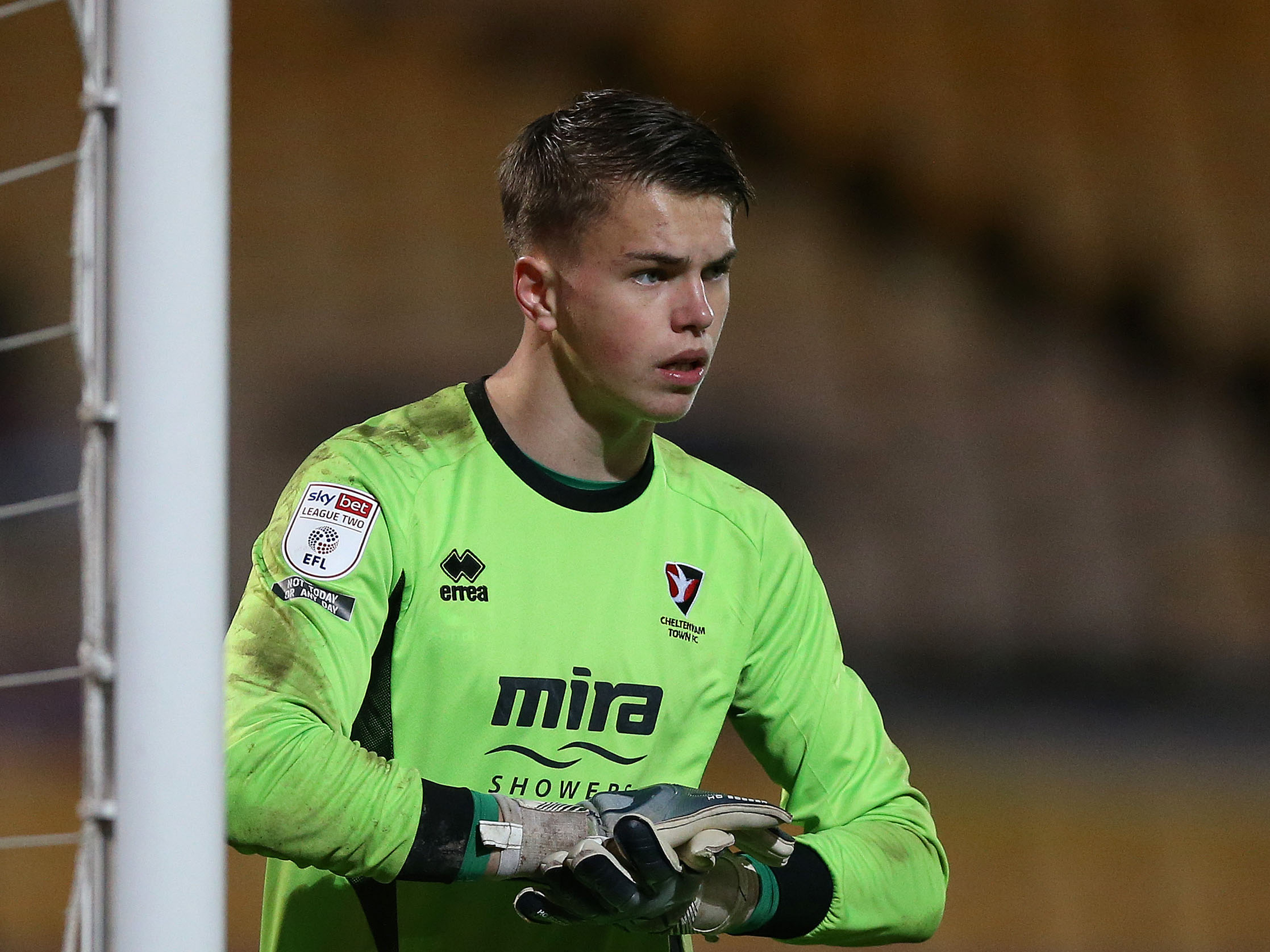 Q: Do you catch up with the keepers at West Brom quite regularly?
JG: Yes I speak to Alex Palmer quite regularly and to Sam as well to see how everything's going, which is always nice when a first-team goalkeeper and someone of his quality checks up on you to see how you'e doing. Anything I'm not sure about, I know I can ask him like I do with Walshy or Boaz. But he [Johnstone] says at the end of the day it's a game of football so you've got to go out and enjoy it and show everyone what you can do which is one of the best bits of advice he's given me.
Q: Even the likes of Sam and Alex had to go on loan to get where they are now - does that bode well in your pursuit of a place in the West Brom first team?
JG: That's always been my goal since I signed at 10. Everyone has different journeys but Palmer was in League Two last year and did really well, so I'm trying to emulate that this year and then work my way up through the leagues and hopefully get a chance at West Brom in the next few years.
Q: Lastly, can you pick a highlight from your time away so far?
JG: I'd say winning against Forest Green Rovers because I know how much of a rivalry there is and obviously it was a massive shame that the fans weren't there to see it because it would've gone down well with them. But still, it's nice to get some bragging rights.
From the clean sheets I've kept it would be probably be Southed away. That's one that stood out because it followed on from the Grimsby game which was difficult for me personally and for the team. So to bounce back with a performance away from home, and a clean sheet was great for me.