Our Legend Days celebrations can go no further without featuring "The King". Royalty in West Bromwich, he developed a goal-scoring and target-man game which took his club to glory and himself to a World Cup. But perhaps equally memorable was the special and enduring bond this people's hero developed with his supporters. Another legend taken from us far too soon, join us today as we salute the one and only Jeff Astle.
Full name: Jeffrey Astle 
Date of Birth: May 13, 1942 - January 19, 2002
Place of Birth: Eastwood, Nottinghamshire, England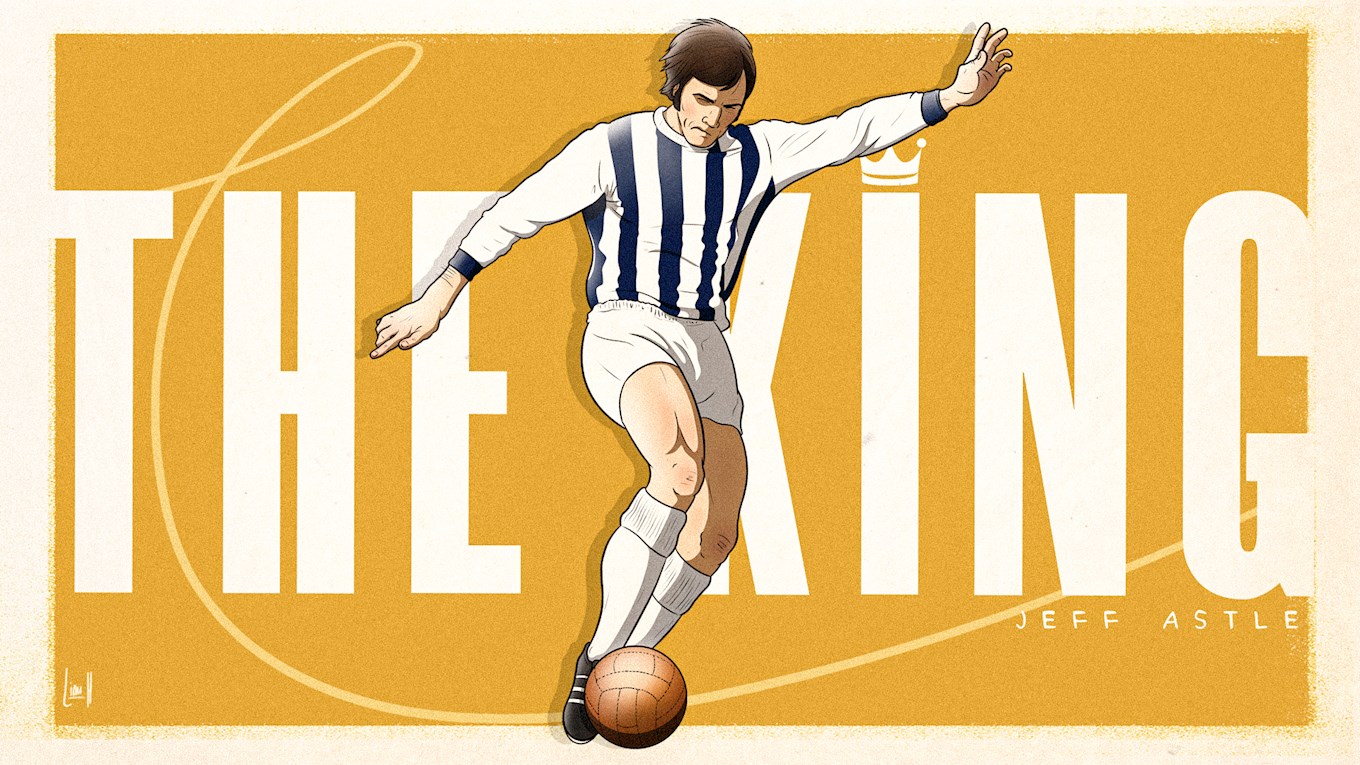 Senior career
Jeffrey (Jeff) Astle (born May 13, 1942) was a natural in front of goal during his time at The Hawthorns and his ruthless ability earned him a place among Albion greats as the Club's fourth highest goal-scorer, with 174 goals in 361 appearances, during a captivating decade.
Arriving in 1964 from Notts County, Jeff fitted seamlessly into life at Albion and became the pivotal figure in a team which became one of the most formidable Cup sides of the Sixties. 
Within two years, he was lifting an admittedly different League Cup after helping overcome Bobby Moore's West Ham United over two legs.
The stand-out moment followed two years later at Wembley when he scored the only goal of the final against Everton to confirm his place in the pantheon of our greats. It means he joined an exclusive club of players to have scored in every round and when he then found the net against Manchester City in the League Cup final two years later, Jeff became the first to score in both of English football's major Cup finals at Wembley.
"He scored the winning goal in an FA Cup Final, won medals and played in a World Cup for his country. West Bromwich Albion and the supporters meant everything to him. When he scored that FA Cup Final goal...the first thing he did was run straight to the fans. He always said that goal was for them. And it was" - Jeff's widow, Laraine Astle. 
His league accomplishments saw him climb to a place among the elite of the game – and this at a time when he was in opposition to some formidable rivals such as George Best, Peter Osgood, Allan Clarke, Joe Royle, Francis Lee, Jimmy Greaves, Ron Davies et al.
But he was the third top goal-scorer in Division One for the 67-68 season, fourth a year later and then top of the pile in 1969-70 with 26 league goals – prelude to his selection in what is still regarded as one of the finest England squads to leave these shores as he headed for the Mexico World Cup.
Jeff's Albion career had wound to a close by 1974, his powers diminished by injury but his reputation intact as one of the finest headers of the ball the game had ever seen.
Although Jeff's sporting career was devoted to football, he loved his cricket too but as he established his own industrial cleaning business in his post playing career, what became apparent was the depth of his relationship with the supporters he had enthralled.
That only made his tragically early passing, in circumstances which to this day are at the heart of his family's campaign for greater research and information about the impact of repetitive heading for footballers, a day of deep shock and sadness in January 2002.
The unveiling of the Astle Gates, which stand at the main entrance to The Hawthorns, in 2003 was an immediate and deserved tribute while his family's campaign was given extra impetus in April 2015 when the Club devoted a Premier League fixture to Jeff to launch The Astle Foundation amid memorable and emotional scenes. Albion became only the second club granted permission to change their home kit – to the all white and red socks of Wembley '68 – for a top-flight fixture.
The Foundation has gone on to support the families of other footballers who have lost their lives to forms of dementia and lead the campaign for greater understanding and prevention of the impact of repetitive heading.
Jeff overlooks love to start his dream  
Jeff's heroics on the pitch might have led folk to believe football was his sole sporting devotion. But there was an opportunity at the beginning of his career for Jeff's story to take a very different path.
He grew up in Nottinghamshire and he did not have to venture far for his start in the game, with Notts County offering the first professional contract. But there were other offers for his services around the county with Nottinghamshire County Cricket Club eager to recruit Astle's services as a budding young cricketer. A tough choice for the soon-to-be standout forward whose passion for cricket remained throughout his life but Meadow Lane won the day.
He would become a protégé of one of English football's greatest strikers of the post war years, Tommy Lawton, and his steady development over five seasons in the lower half of the Football League brought 30 goals and the attention of Albion boss Jimmy Hagan.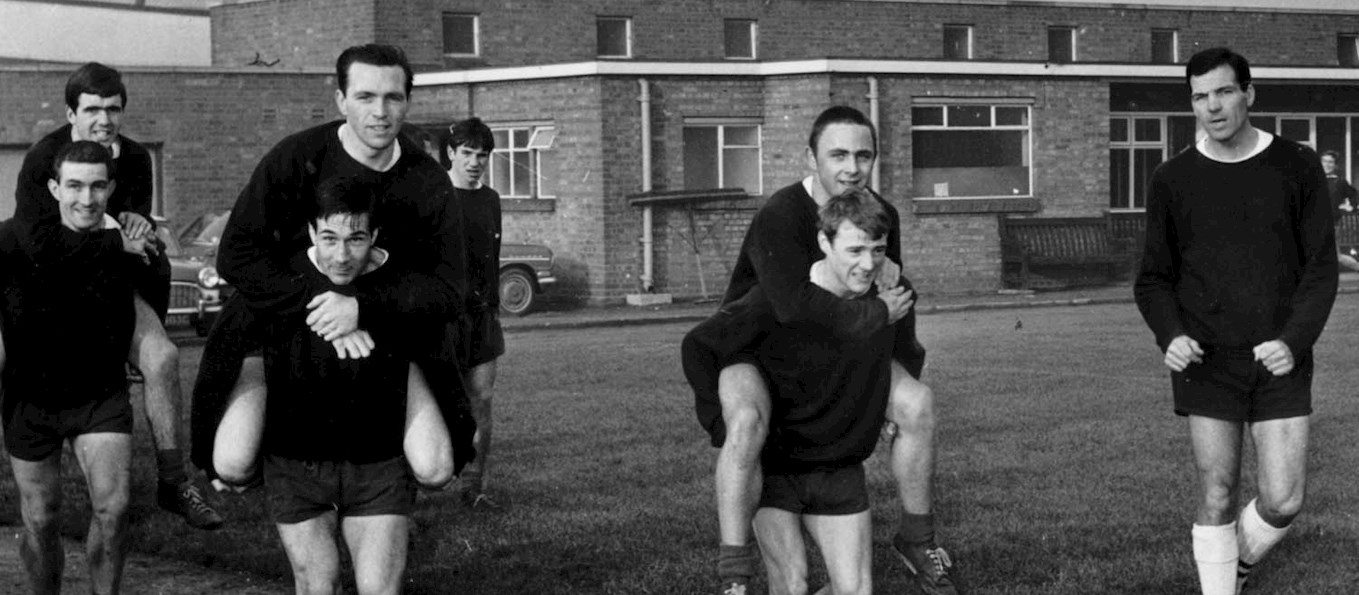 Astle enters Albion legacy
A £22,500 fee secured a switch to Division One with Albion in 1964 and it did not take long for Jeff's match-winning capabilities to become apparent. Famously he sat in the dressing room at Leicester City for his debut as a stranger among his peers who wondered what this lad from the lower divisions would bring to their developing team.
They didn't have to wait too long for an answer. Jeff netted twice during a thumping 5-1 victory over Wolves in October that year and his leadership of the front-line developed to the point where he claimed 18 league goals in his second season. 
The Baggies overcame West Ham with a blistering display in the second leg of the 1966 League Cup Final – "we absolutely battered them," as Tony Brown would describe it in later years - and Jeff bagged an impressive six goals in the competition, including an important goal in the first leg in London. 
"We knew he could win us games. Jeff was a personality; he would have us laughing with stories in the dressing room, he lived in West Bromwich and he would go down to get his meat from the local butchers, he would go down to the local bookies and he became a part of West Bromwich and Albion folklore" - Graham Williams, Albion left-back and captain 1954-72.
He was a man for the big occasions and never was that more clear than in the 1968 Cup triumph. Nine goals from the target man gave Albion momentum on their charge to the final but his last goal to win it remains one of the most iconic moments in the Club's history.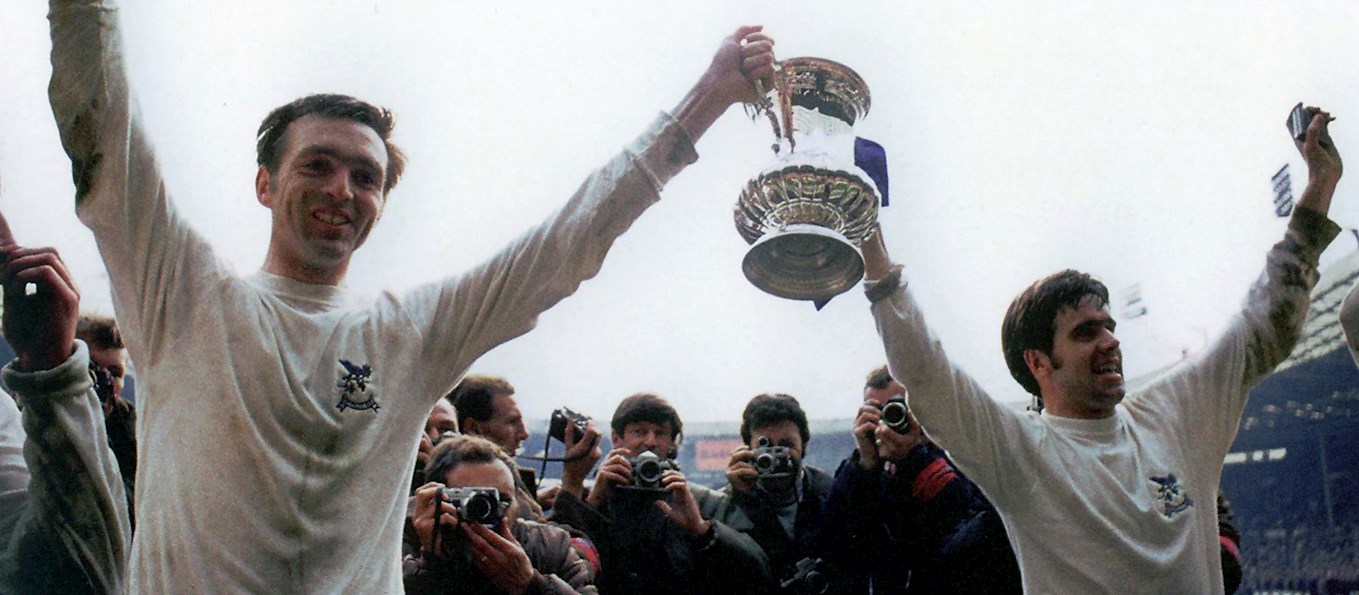 That year saw his goal tally in all competitions reach 35 and this imperious form did not falter in the seasons which followed. One of his most memorable strikes for the Throstles came against Sheffield Wednesday in November 1969, which earned him a place on the illustrious list of players to have scored 100 goals for the Club. This prolific form during the 1969/70 season meant "The King" reigned above the best strikers in the First Division with 25, his hold-up play a perfect foil for all-time leading marksman Tony Brown.
"He was magnificent and we all know about his strength in the air - I don't think I've seen a better header of a ball in my lifetime than Jeff, he was absolutely brilliant. But it wasn't all about heading because he was good on the floor, a good leader of the line and his goal-scoring record is unbelievable - he just loved scoring goals" - Tony "Bomber" Brown, Albion midfielder 1963-81. 
A successful 1970 would help fulfil a boyhood dream of joining England for international duty at a memorable World Cup, an achievement that would perhaps establish the high water mark of his memorable career. But the friends and contemporaries he made along the way never forgot him. Or his value.
He joined his international captain Bobby Moore at South African club Hellenic shortly after ending ties with the Baggies before easing down the gears in non-league football. Atherstone was the last permanent club of Astle's career in 1977 although the character and personality which the Albion fans loved was back to capture another audience later in his life. Jeff revelled in a series of comedy appearances on Frank Skinner and David Baddiel's landmark show Fantasy Football.