ALBION made the heroes of '68 the first recipients of a new project which will see every first team player awarded specially-crafted caps.
The climax of Saturday's celebration dinner to mark the 50th anniversary of the Wembley FA Cup victory over Everton saw the first caps presented to the players and families from that memorable day.
The special night at The Hawthorns, hosted by Adrian Chiles, brought the memories flooding back with video playbacks and interviews with the men - and women - who were at the heart of that campaign.
But the highlight was revelation of a special caps programme we have been working on for a year and which will see every first team player, past, present and future, see their senior debut marked with their own bespoke cap bearing the number in order of their breakthrough into the team.
David Ashman, the son of Albion's manager that day, presented the caps to Graham Williams, John Kaye, Doug Fraser, Bobby Hope, Ian Collard and Dennis Clarke while Laraine Astle, June Clark, Jenny Osborne and Ena Talbut collected caps on behalf of their husbands. Graham Lovett's widow Kate will receive his at a later date.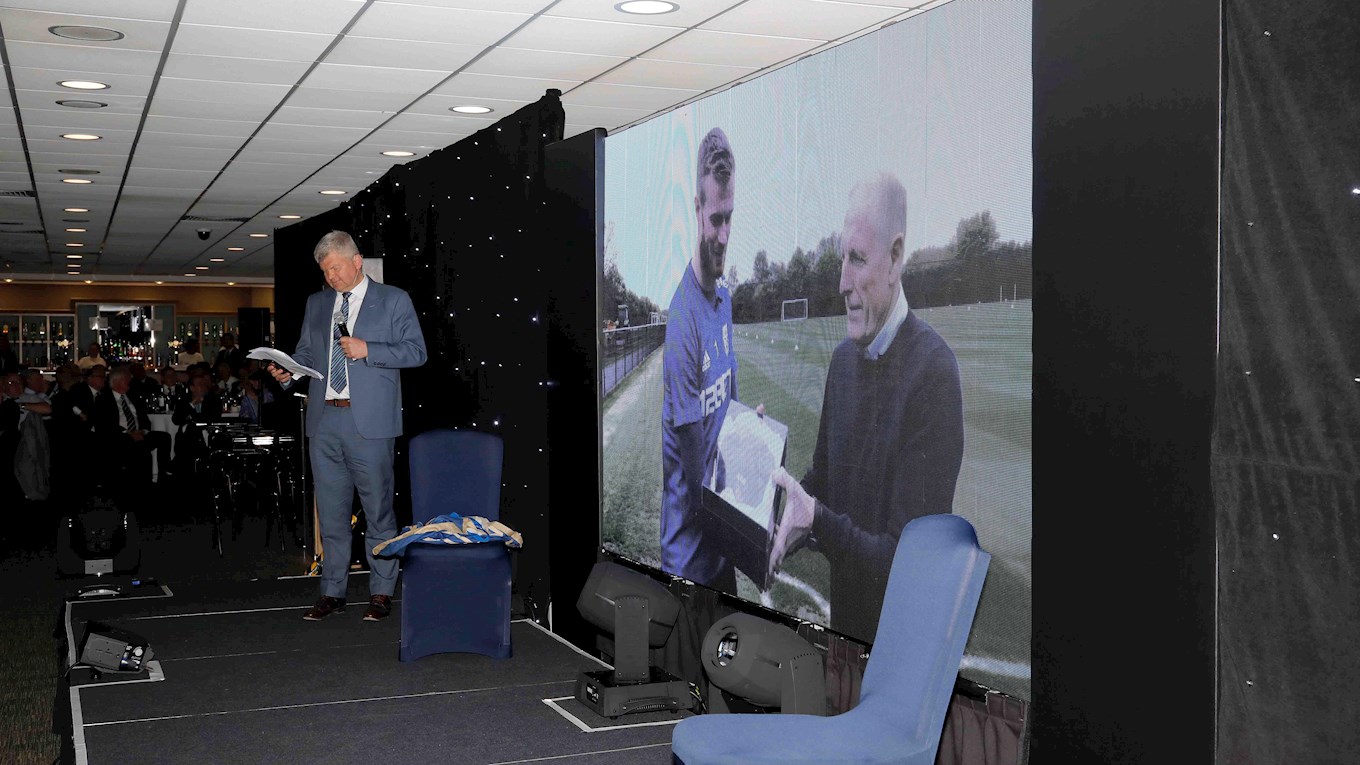 Tony Brown becomes the first recipient of the Albion cap
The project has been researched and led by Club archivist, programme editor and all round 'Mr Albion' Dave Bowler who explained: "As you all know, when a footballer plays for his country, he is awarded a cap to mark the occasion.
"Well, it seemed to us that playing for England, Scotland, Wales and the like, it's all very nice, but it's not like playing for the Albion is it?
"So last year, we decided that we were going to reward every player – past, present and future - who has represented us in the league with a special Albion cap.
"We've had 911 players to date, from Bassett to Sturridge, and a unique cap has been made for each one, those still amongst us and those who have passed.
"It features on it the original club crest designed by club secretary, Tom Smith, back in 1884, along with the famous WBA lettering from the late '70s on the back. And each one is individually numbered to represent each man's position in the cavalcade of players who have worn the famous blue and white stripes down the years."
Bowler added: "Over the course of the next year – or two – we will be tracking down as many of our former players as we possibly can in order to present them with their caps, while we will also be looking for family members from those players who have passed so that the caps can be placed in the right hands in perpetuity.
"We've made our start and begun to give those men who built this football club a lasting memento of their pace in our hearts - a timely reminder that whatever our temporary misfortunes might be, there is no other football club like West Bromwich Albion."