DARREN Moore may be the man of the moment, but he's dedicated his Premier League gong to 'everybody at West Bromwich Albion'.
'Mooro' was today chosen by a panel of judges as the Barclays Manager of the Month for April. And, before the big presentation, the Baggies boss gathered both players and staff at Palm Training Ground to share in the occasion.
More than 100 Albion employees were on hand to congratulate Darren as he scooped the prestigious accolade; further evidence of the big man's commitment to a united Albion.
"It was a really special moment. Even though I've got the accolade, we've all come together as players and staff, as representatives of West Bromwich Albion," he said.
"The award was achieved by everybody at the football club and that's why I wanted everyone to share in the moment.
"Everybody had to play their part for it to come together and they have.
"It's a big 'well done' to everybody here. But we continue to work going into the final week of the season."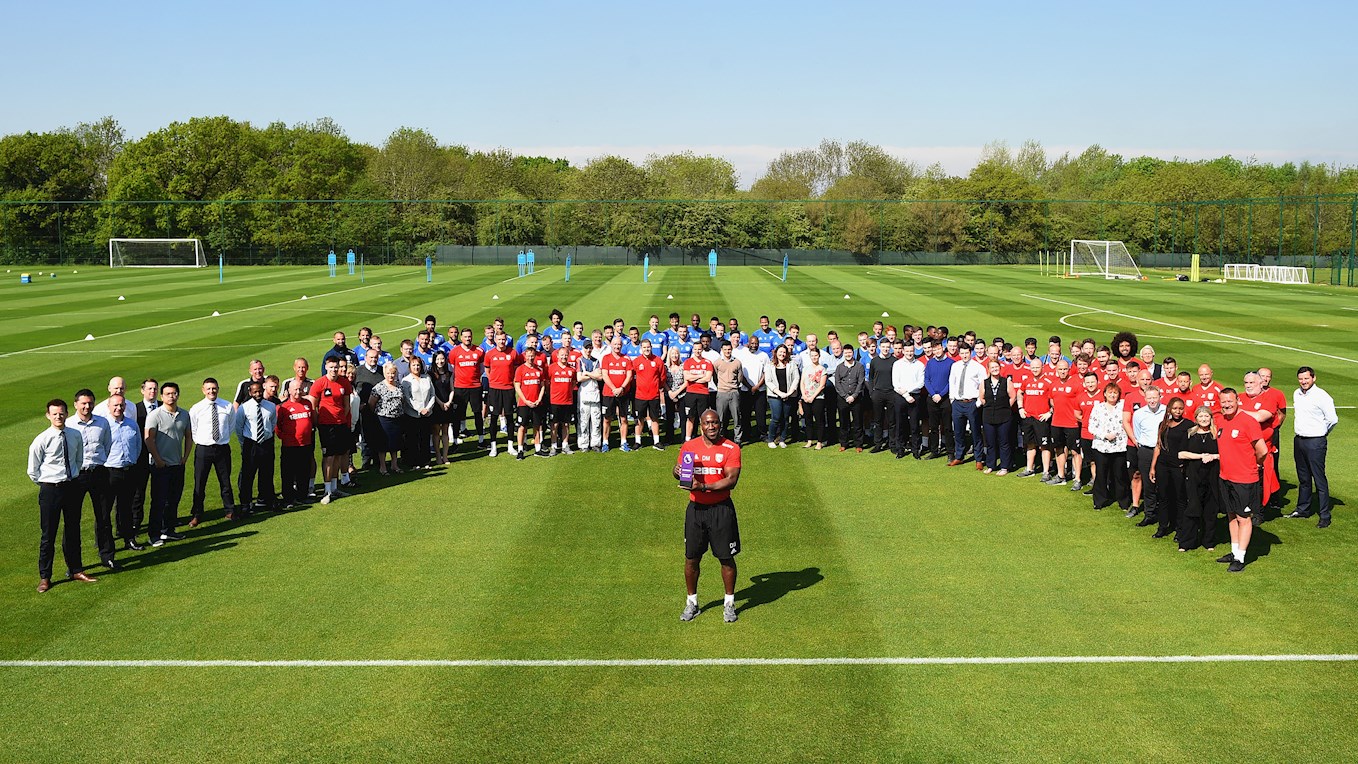 West Bromwich Albion players and staff celebrate Mooro's success
The award comes after Darren successfully navigated his side through April without defeat, with victories at Old Trafford and St. James' Park the centrepieces of an outstanding month for the football club.
Add Saturday's dramatic triumph over Tottenham Hostpur to that list, and it's now Jose Mourinho, Rafael Benitez and Mauricio Pochettino who have been put to the sword by a man who's managed just five top-flight fixtures.
"It really is an honour. The calibre of managers out there that have done excellent jobs within the game means it's a special award for us here," Darren added.
"We've had some tough games in this period. As a club, as a unit, we've had to go into those games with everybody together. And we've done it.
"The results we've come out with are excellent, they really are. We've taken one fixture at a time and put everything we can into those fixtures.
"The mentality around the club has been excellent. And I don't just mean the players and the staff, I mean right through the club."
Was Jake Livermore's last-gasp winner Mooro's stand-out moment of his time in the hot-seat? It's got some stiff competition.
"All of it has been really memorable to be honest," he smiled. "And we'll try and create some more memories in the final week.
"We just kept going against Tottenham, kept going. When the five minutes went up the supporters really raised the volume. There was great belief in the stadium and that has a knock on effect to spur the players on.
"Individually and collectively they've stuck to the task that's been asked of them. They've gone about their business in a very professional manner.
"There is genuine care from them for the football club. I want them to carry that on and keep working hard."