Just one player survived Gary Megson's first game in charge of Albion to go on and feature in the promotion-winning victory over Crystal Palace a little over two years later.
Megson took the Baggies from Division One relegation fodder to the Premier League in 25 months, the rebuild beginning somewhat inevitably, with a 1-0 win at Stockport County in March 2000.  
The then-Albion boss tore his inherited team to pieces in the first summer of this millennium, culling players left, right and centre, in an effort to transform the fortunes of a club that had endured a 16-year absence from the top-flight. 
One man lasted the distance, battling back from a cruciate ligament injury to join a play-off charge, before helping the Baggies all the way to the Premier League the following season.
Larus Sigurdsson, who was himself sold by Megson during their previous spell at Stoke City, started on that spring outing to Edgeley Park, two years prior to Albion's 2001/02 promotion.
Later joined by Darren Moore, Phil Gilchrist, Derek McInnes, Andy Johnson, Bob Taylor et al, Sigurdsson had earned his place on the teamsheet the hard way when Albion contested their maiden Premier League fixture, at Old Trafford on the opening day of the 2002/03 campaign. 
Larus returned to The Hawthorns earlier this month to educate his youngest son in all things Albion - and, of course, to receive his all-important cap.
"It was really good to be back, the idea for our trip to England was to take our youngest son, who was not born when we moved back to Iceland," 'Siggy' revealed. "I wanted to show him the clubs that I played for and it was absolutely fantastic to come back to West Brom. 
"He was a little bit amazed and we really enjoyed the night. We had a fantastic night and received fantastic hospitality from the club and I'm really grateful to everyone who helped make it happen. It was a great day.
"The atmosphere was great and it brought back a lot of memories. 
"It's a nice, friendly place and it was good to come back after all these years and for people to remember me. It was a good feeling. 
"It's been a while since I've been asked for an autograph. It's the first time my youngest son has seen me give an autograph and I don't think he could really understand why people were asking me. It was really special, it's a fantastic place, and a great club, with fantastic supporters. It was an all-round good night and I'm really grateful for how the club treated me, my wife and our youngest son. We're over the moon."
Larus' Hawthorns comeback enabled the club to present him with Albion cap number 717, a tribute that clearly touched the former centre-half.
"It was special to receive my cap and it is a great thing to do. It's nice to be player number 717 for the club as I used to wear number 17. 
"I was really honoured to receive the cap. It's a fantastic idea and I'm surprised more clubs don't do it. I'm really honoured to have played for the club and to get this recognition makes players feel special."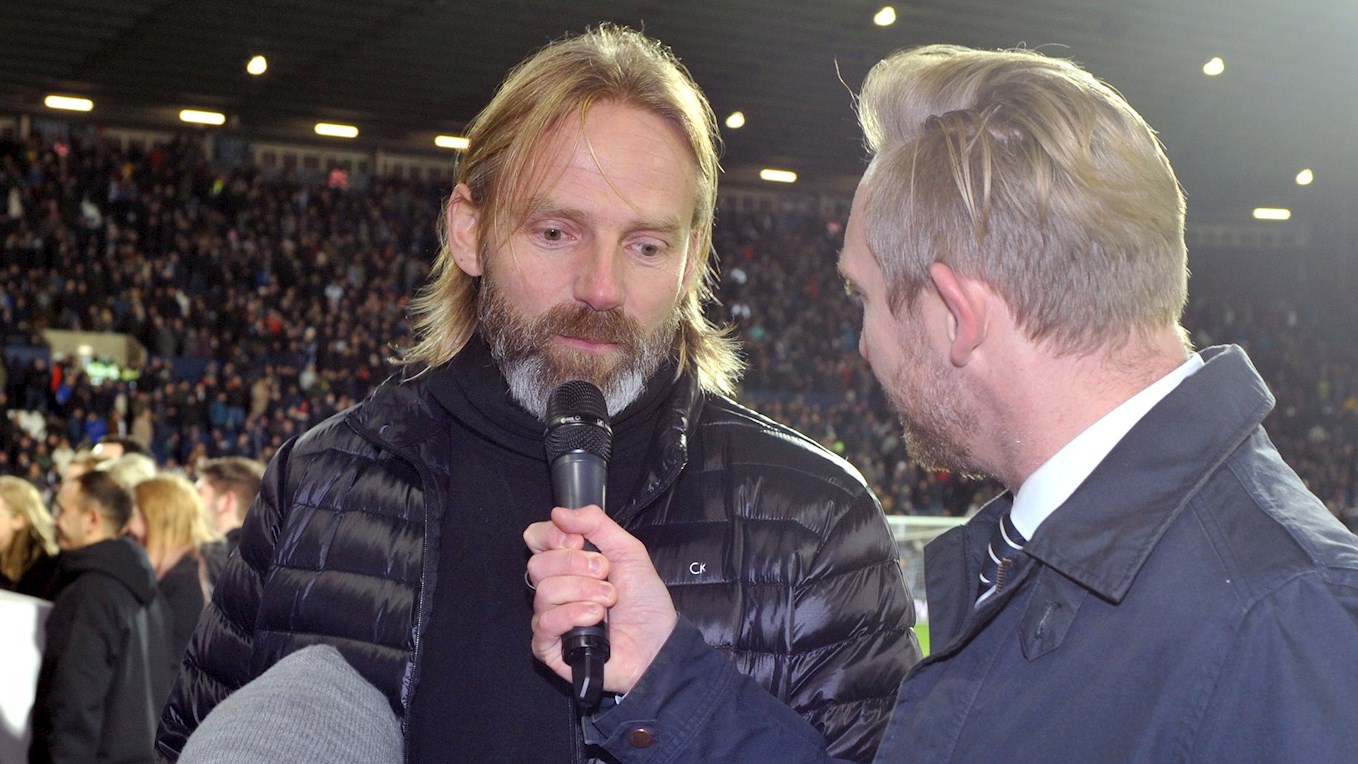 ON FAMILIAR GROUND... Larus is interviewed at The Hawthorns
Darren Moore proved to be the final piece in Megson's defensive jigsaw when he slotted in alongside Sigurdsson and Phil Gilchrist, in front of keeper Russell Hoult, in September 2001. And Larus says it is no surprise to any of his old team-mates to see Darren where he is now.   
"It was fantastic to see Darren. I've spoken to him on a few occasions and it's really good to see an old team-mate doing so well. The team is playing well, playing good football, and he's doing really well. It's nice to see a nice man like Darren Moore doing well. 
"He hasn't changed at all. He's the same fantastic guy he was when I was playing alongside him and he will never change, Mooro will never change. 
"I'm really proud of him, I'm really pleased for him. The team that first got promoted for West Brom was a special team. There was a special bond between the players and it's great to see old team-mates, like Darren and Derek McInnes, doing well. 
"He's been working with the club almost all the time since he stopped playing. It doesn't surprise me at all the position he's in now. Long may it continue." 
Sigurdsson made 128 appearances during his five years at The Hawthorns from 1999 to 2004, before returning to Iceland.