OUR Fanzone swings back into action this weekend with a new partner giving it a new look.
We'd like to welcome local brewery Blind Monkey into the Albion Family as our partners to deliver the Fanzone activities during the season.
Open for all weekend matches, the Blind Monkey Fanzone will have all of the fun fans have come to expect on a match-day with a big screen showing live matches, new fun activities for the youngsters and the Foundation Foot Darts competition.
Refreshments will be on offer, including Blind Monkey's Foundation Pale Ale to complement different street-food options such as hog roast baps, kebabs, crepes all of which will be offered at some point during the season.
On Saturday, Fanzone visitors will also be able to enjoy an inflatable Helter Skelter, football shoot-out, human Table Football while the big screen beams in the Cardiff City v Newcastle United Premier League game from 12.30pm.
Simon King, Albion's Chief Commercial Officer, says: "We're delighted to partner with a local company to deliver a new and improved match-day Fanzone experience.
"Blind Monkey are long-term friends of the Club who last year announced their partnership with the Foundation to sell special edition Pale Ale, raising funds in the process.
"The costs of running the Fanzone are substantial but the partnership with Blind Monkey ensures that we will be able to maintain regular opening throughout the season.
"Fans will see a wider selection of pre-match catering options, new entertainment activities for junior fans as well as the usual pre-match build up and live games.
"We were all aware that the opening day brought us some teething problems as we fought to cope with scorching temperatures and the capacity attendance. We thank all fans in advance for their patience as we work hard to improve speed of service and we are confident that we will soon have a smooth-running operation which will continue to be the perfect place to soak up the pre-match build-up."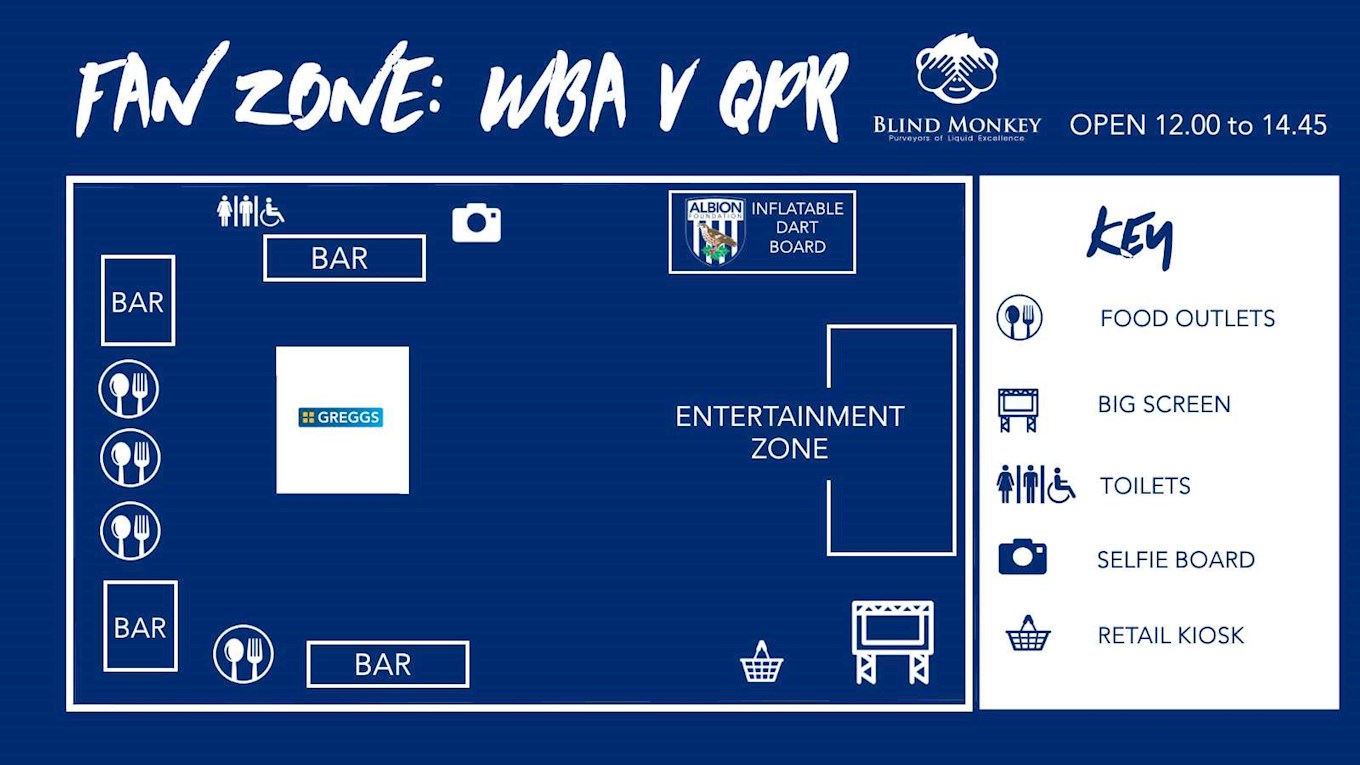 Map of the Fanzone for this Saturday's QPR clash. Please note that the bottle bars on the sides of Greggs will be card payment only. The other bars will take both cash and card payments.
Blind Monkey are already working on ensuring there are more service points available for Saturday's clash against QPR and will have 20 serving points available for fans to buy drinks.
Ian Bradshaw and Will Stephenson from Blind Monkey say: "We are delighted to operating the Fanzone.
"As a local business and proud Albion fans, this is an epic development for Blind Monkey. Aligned with the success of Albion Pale Ale this helps cement our strong links with the club.
"Fans can look forward to amazing street food and some fine craft ale and artisan spirits. The Fanzone will have varying children's entertainment and we are delighted to offer the cutting edge 20 sqm LED screen via our partners at Elonex which will broadcast games live.
"Other entertainment options are planned and we are looking at some interesting themes for specific games throughout the season. Saturday will see double the serving points with independent fast-serve card payment- only bars and fast dispense draught which will help ensure speed of service."
For 3pm kick off fixtures, the Blind Monkey Fanzone will open at 12 noon and close at 2.45pm in time for supporters to take their seats before the game. Supporters must have a season ticket or ticket for the match to gain entry and away fans are welcome at most fixtures.
We'd love to hear your feedback about the Fanzone and entertainment you'd like to see, so please send any comments to fans@wbafc.co.uk.