On International Women's Day 2021, read the inspirational story of Albion Women's coach Siobhan Hodgetts…
From Greets Green, West Bromwich, all the way to America, Siobhan Hodgetts has been on quite the journey in her football coaching career.
Sandwell born-and-bred, down-to-earth 'Shev' is showing for young women and girls that a career in football is an attainable goal, as one of a new generation of female coaches at the top of their game.
Now 32, Siobhan is the West Bromwich Albion Women's Under-14s Head Coach and runs the girls' programme at Sandwell College. Having also coached in America, her CV is testament to her dedication to the sport as a career, providing inspiration for others to follow in her footsteps.
Siobhan began her story at school: "I didn't know what I wanted to do at school really, but I'd grown up as an Albion fan and had been involved in the Positive Futures programme. One day one of the guys said to me 'you know the Albion are looking for apprentices?'
"So, I applied, got accepted, and all of a sudden I was working for The Albion Foundation. I was 16. It was about 2006, and I did a two-year apprenticeship.
"From there I got to work in the disability team, in education, and do a bit of everything really. Importantly, I got put on my Level One and Two coaching courses, and started coaching the Women's Under-10s, and that's where my love of coaching started really.
"I knew where I wanted to go in football. The Foundation opportunity opened up the chance for me to go to Florida to coach in a completely different environment. It was a big step, of course, and it was a big change in my life. I'd never have imaged it five years earlier.
"Coaching is really what I wanted to do. I'd been a player with West Brom for nine years and I really enjoyed playing back then, but I was really interested in the coaching side. I was playing for the team, but coaching teams as well – I don't know how I fitted it all in looking back!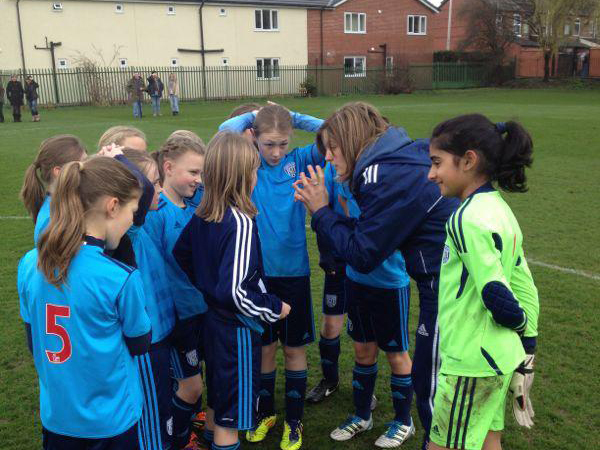 "It was probably around then that the women's game was starting to grow, but it was still the old league system and mainly local grassroots teams. There was no funding, and no-one got paid. The way the game has evolved in the last ten years is great, it's getting investment and games are on TV and being streamed.
"There was less support back then within the game, and you heard all the stories of hand-me-down men's kit, but I've never found any barriers personally. Opportunities were less, but barriers, no. 
"I didn't play for a team until I was 16, mainly because there wasn't the publicity around it. It's great for girls today that they can see a lot of opportunities in the game.
"It's a message we give to the players I work with – that you can always enjoy football and get to a good level, but always have a back-up plan.
"Within the sports industry there are lots of avenues you can go down. It could be that you want to be a physio, a referee, strength and conditioning coach or work in media. There are lots of role models out there and it's not just about a playing career if you like football – there is so much more.
"My career with the Foundation and through the Premier League has allowed me to see some amazing countries in different parts of the world. I guess from where I am from, people would never have expected that.
"I'm doing my A-Licence now. I never thought I would do it, so who knows where things will go."
You can follow West Bromwich Albion Women's team and the Regional Talent Club on Twitter at @WBAWomen.