Luke Dowling has been watching the Albion squad in training this week and reports they are "fired up" to complete the season in style.
The Sporting and Technical Director was particularly delighted about the attitude of the cluster of Albion's key loan players who have now all been cleared to go into 'overtime' and finish the season with us.
The Baggies are in Phase Two of the EFL endorsed training protocol which allows for close-contact small-group sessions.
And Luke believes the proposed June 20 start date has really focussed the minds of the players as they work towards resuming their promotion challenge.
We caught up with him for an update.
Q: You've been watching the boys at work this week Luke – how do you assess their mood and physical condition?
Luke: When I first went into the training ground after the players came in from their individual training regimes in isolation, you could tell the mood was positive. I think the players enjoyed being with their team-mates and friends again and returning to some kind of normality. Since then, each day you sense a different kind of atmosphere in a positive way. Everything is becoming more real for them with each passing day.
I think when the testing started – and so far we've had a clean bill of health – that relaxed them more and since we had the June 20 date spelled out… well, you can see there's been another change this week. They can now focus on a date and we know what we're working towards. It has changed week by week and if I could sum their mind-set in one simple statement it would be: "We've got a job to do."
Grafting 💪🏼 pic.twitter.com/kMEIzrTM4R

— West Bromwich Albion (@WBA) June 4, 2020
Q: The start date has provoked plenty of debate. What's Albion's attitude to it?
Luke: Whatever date you came up with would not please everyone; someone would be unhappy about it or point out some faults. I think that applies to so much in this situation. Because of the number of games and also the Play-Offs at the end, it wasn't going to be much later than June 20 with July 31 being the shut-off point. But I don't think it bothers us too much and, as I say, I think the boys are all quite excited by it. Looking at the players this week, I think they wouldn't mind starting on Saturday which is testament to how they have applied themselves at home and at the TG.
You know, it takes a lot of determination and discipline to keep themselves at the levels they have maintained, especially when you are on your own and you don't know if and when you might be playing again. And it's not like you and me going out for a walk for our exercise, these guys have to keep themselves at a phenomenal level of condition. So I'm pleased for them we've got a date now to work to. I know there are other clubs who have had their say and aren't happy but as we speak, our attitude is to get on with it. Let's get going again.
Q: We've obviously got a key group of loan players who will now be asked to play beyond their initial contract period (June 30). Have we cleared permissions?
Luke: So all the clubs we've spoken to have cleared them to play but of course you can't do that without establishing whether the lads themselves are happy to stay on. They have got their careers to think about don't forget. What was brilliant was the reaction I got when I spoke to them about it. I was asking them if they were happy to stay and they looked at me completely 'gone out' – as if I was mad! To a man they responded: "Are you crazy? Of course we want to stay."
I've got to say that all the loan players have really brought into the club this season and been an absolute delight to have in the Club. They all love it here which is great for us. They want to see it through. And if there is one 'upside' to this halt to the season it is that we have now got Grady (Diangana) back and available again which wasn't the case before the stop. In the other direction, we're talking to Charlton about Sam Field returning to feature for them now Sam has recovered from injury. It would be a great opportunity for him to get some invaluable experience in a demanding situation.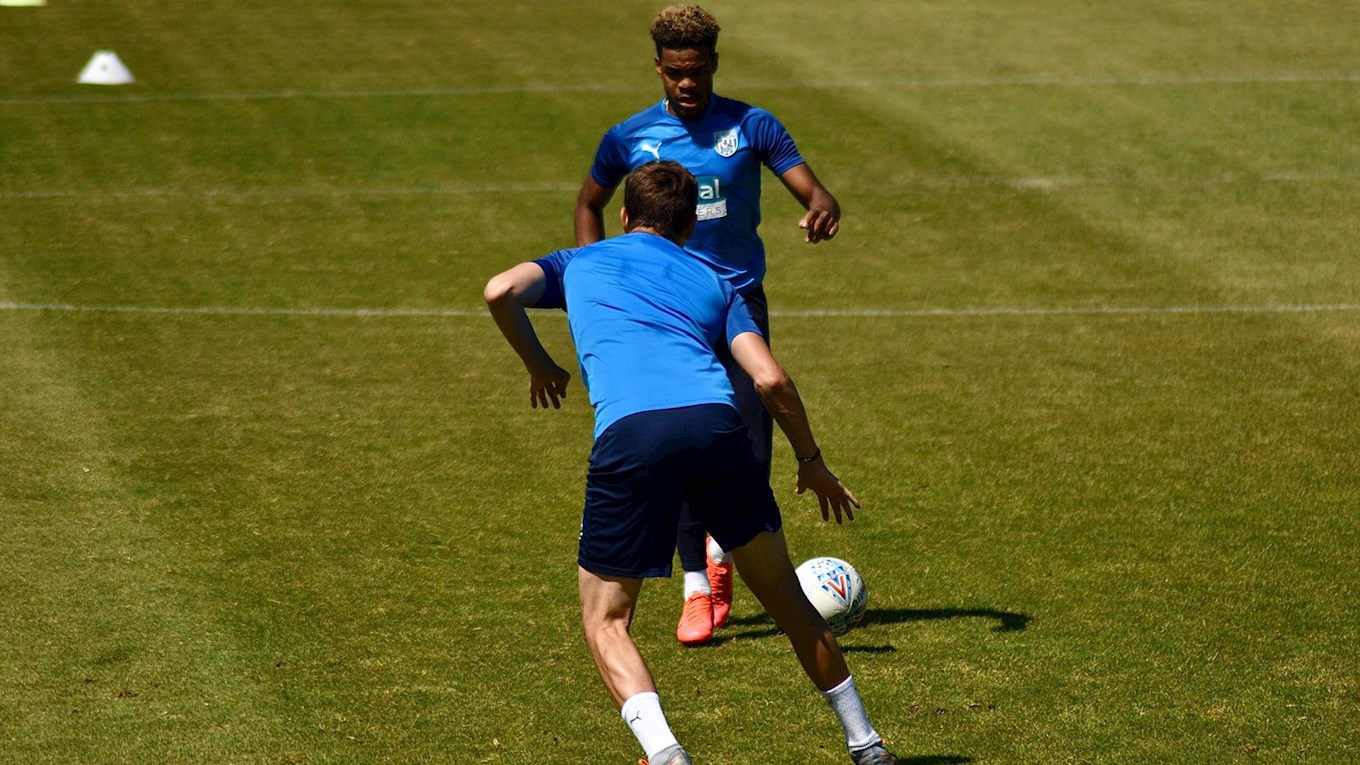 Q: There's a lot of talk about friendlies and if and when we are able to play them. What's the latest?
Luke: Yes, we will be trying to organise friendlies, either at The Hawthorns or elsewhere. At the very least we will certainly be switching some sessions to the stadium when we get to Phase 3 – hopefully next week at some point – and can get into full contact 11 v 11 training. But friendlies will be very important for the players to get a 'feel' of what a behind-closed-doors match is like.
I think back to our last pre-season friendly against Bournemouth when we had six or seven thousand in the stadium and that was a strange atmosphere at times. But having no spectators will be a completely different experience and we don't want the players surprised by it. A lot of them get their bearings and feel for a game from the noise inside the stadium and that's obviously not going to be there for them. So we want them to get used to these new playing conditions. We don't want them surprised by anything. Slaven was very keen from the outset for us to play friendlies so we are working on that.
Q: What's next in the training schedule?
Luke: I'm looking forward to when the players and staff can get back into the training ground and things can get back to a more normal setting. At the moment, we are still working outside the building in that the lads are turning up in their kit, going into training when they are not being tested, and then going straight home afterwards. It will be good to get the building up and running again although we will still be maintaining all the recommended safety protocols.
Ultimately, football won't be normal until we have beaten the virus and we're all safe to mix again but until then, we have to make the best of things. But it feels like the game is coming back to life. Since the re-start dates were announced, my phone started ringing again and it felt like the game had been jump-started back to life. It's going to be a strange period with the fans missing but the reward at the end is massive for us and I sense the players are in the mood to meet the challenge head on.