Supporters of The Albion Foundation spent an evening experiencing the world of 'Blind Dave' Heeley as they took part in his Dinner in the Dark.
Taking place at the Burlington Hotel in Birmingham, the guests were required to eat a three-course meal whilst being blindfolded for the duration of the night.
Many of the diners opted to eat with their hands, whilst some elected to cautiously proceed with their cutlery, making use of their table's guide for the evening.
The guides were made up of volunteers and former players who all generously gave their time to help the event run smoothly.
They were also able to act as referees for the evening, dishing out yellow and red cards to the diners for alleged cheating; with the night's host, Dave, deciding each sanction which tended to be a donation to the Foundation.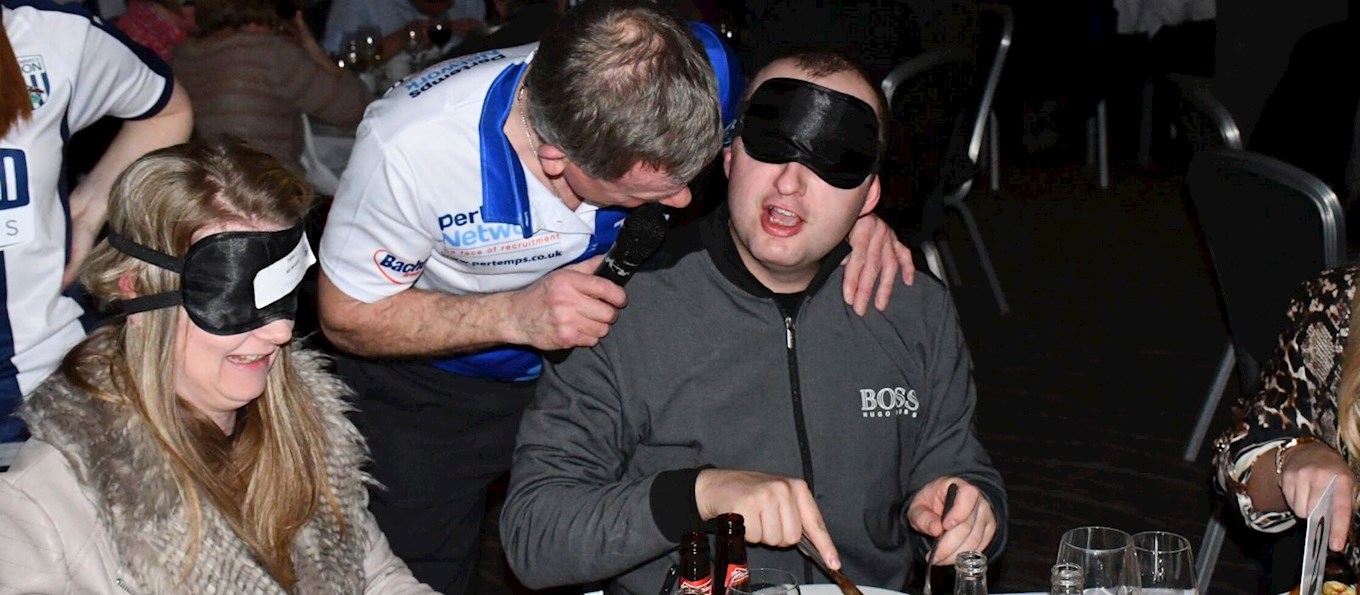 And speaking about the event, The Albion Foundation's Ambassador was full of enthusiasm for the concept of the evening.
"For me as an individual the event is brilliant because it's such a laugh. There were people here that have come before and they have come again because they think it's fabulous," said Dave.
"People have said afterwards, 'how on earth do you cope with that? Because we don't feel we could.'
"To get to people like that, I think the night was worth it," he said.
Talking about why he chooses the Foundation, Dave was full of praise for the work that it does.
"I just love the Foundation. What they do and what they stand for," added Dave.
The evening was also a great success for Foundation Director, Rob Lake.
"It was another brilliant night. We raised some significant funds for the Foundation but just as important was that everyone who took part went away with a greater sense of perspective on life" said Rob.
"We were all able to take our blindfolds off after a couple of hours, but Dave does not have that option and we all appreciate even more the incredible things he does and the incredible man he is.
"I would like to personally thank the Burlington Hotel for being fantastic hosts, everyone who supported the evening and especially the former players, Mark Jenkins and the Board of West Bromwich Albion, and Chris Brunt and Boaz Myhill for their continued support of the Foundation," he said.
The Foundation would also like to thank all the diners who came out to support the event, the volunteers, the former players, and the Former Players' Association for their help in bringing the players together.