VERY often it's the case that football clubs take a zigzag course when it comes to appointing football managers and that approach is easy to understand.
After all, a new gaffer generally comes in after you've had enough of the shortcomings of the previous one and human nature suggests that the next in line should be the polar opposite – it's very much the formula that Henry VIII favoured when it came to wives, though without conspicuous success it has to be said.
So once Jimmy Hagan had been ushered away from The Hawthorns for all kinds of reasons but, mostly perhaps, for being all too much of a disciplinarian and gradually driving his charges to distraction, not to say mutiny, it was time for Albion's board to appoint a man who might be a little more modern in his approach to footballers, a little more in tune with a Britain that was shrugging off the mantle of National Service and a bit more interested in flared trousers than flared nostrils. These were the days of The Beatles, the Stones, Carnaby Street, Twiggy before she discovered M&S, of free love, though possibly this was still all a bit too racy in Great Bridge. Nonetheless, as little Bobby Zimmerman rightly put it, the times they were a changin', and we wanted a manager that reflected it.
So we got ourselves a chicken farmer.
That is the caricature that has dogged Alan Ashman for more than 50 years since he came to The Hawthorns right on the eve of the summer of love in 1967, literally just at the very moment when "Sgt Pepper's Lonely Hearts Club Band" changed all kinds of things forever more. You'd never have mistaken Ashman for the fifth Beatle, not even for George Martin, but the quietly spoken man from the north was far, far more than a chap who left a career as the man Bernard Matthews might have been behind him. Ashman was a very serious footballing cookie indeed.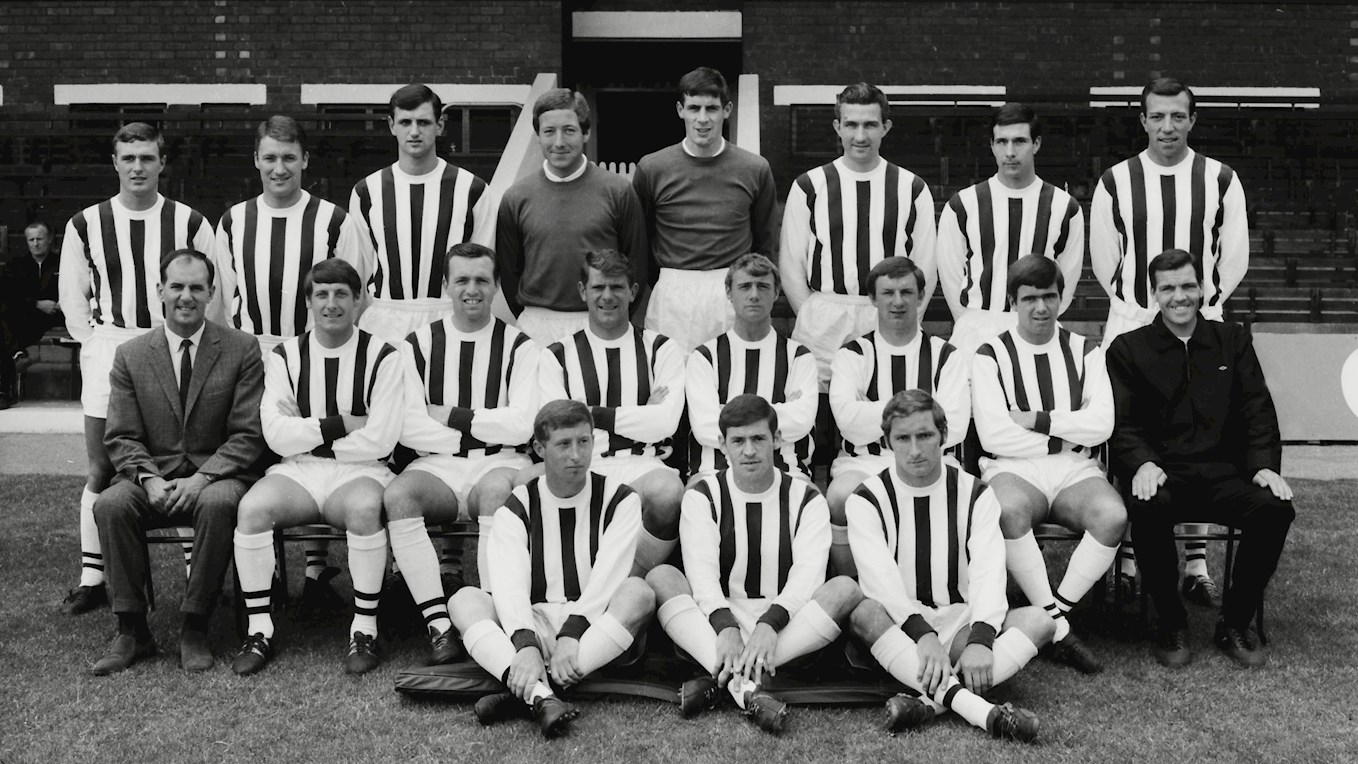 ASHMAN'S MEN: The squad of the 1967/68 season
As a player, he'd been an amateur at Sheffield United and Nottingham Forest without breaking through, before moving to Carlisle United and making a name for himself as a centre-forward. In 1958, he was forced into premature retirement through injury, taking over the running of the poultry farm owned by a club director. In his spare time, he ran Penrith Football Club's first team, and did it so well that as Carlisle were about to take the drop to Division Four in 1963, he was offered the manager's job. Two seasons later, back to back promotions had Carlisle in the Second Division for the first time ever and, after a season of consolidation, in 1966/67 they missed out on promotion to the top flight by a solitary place, finishing third in the days when only two teams got the chance to go up. Even so, life in Carlisle hadn't been that exciting since Hadrian had employed some local contractors to knock up a proper big wall.
Ashman's rise was not unlike the way in which Hagan had taken charge at then non-league Peterborough United and pushed them through the divisions but if anything, Ashman's rise had been even more impressive. Not only that, but he'd done it in rather more gentlemanly fashion, the reports coming out of Brunton Park suggesting that his players admired rather than feared him. And so while Chelsea and Tottenham played out a rather dreary FA Cup final in May '67, Albion's directors were busily offering him the opportunity of moving to The Hawthorns. He took it, though neither party could have imagined that a year on, they'd all be marking the anniversary by heading to Wembley for our own cup final.
That certainly looked a goodly way off in the early days of Ashman's reign. The culture shock in the aftermath of Hagan's more regimented style was palpable and given Ashman's more affable, conciliatory approach to management, the players began to enjoy a liberty or two that they hadn't been able to indulge in during the previous few seasons. A 4-1 win over Wolverhampton was all we really had to enjoy in the opening seven league games and then the Throstles travelled to Elm Park to play Reading in the League Cup, a competition where we had reached the final in each of the two previous seasons.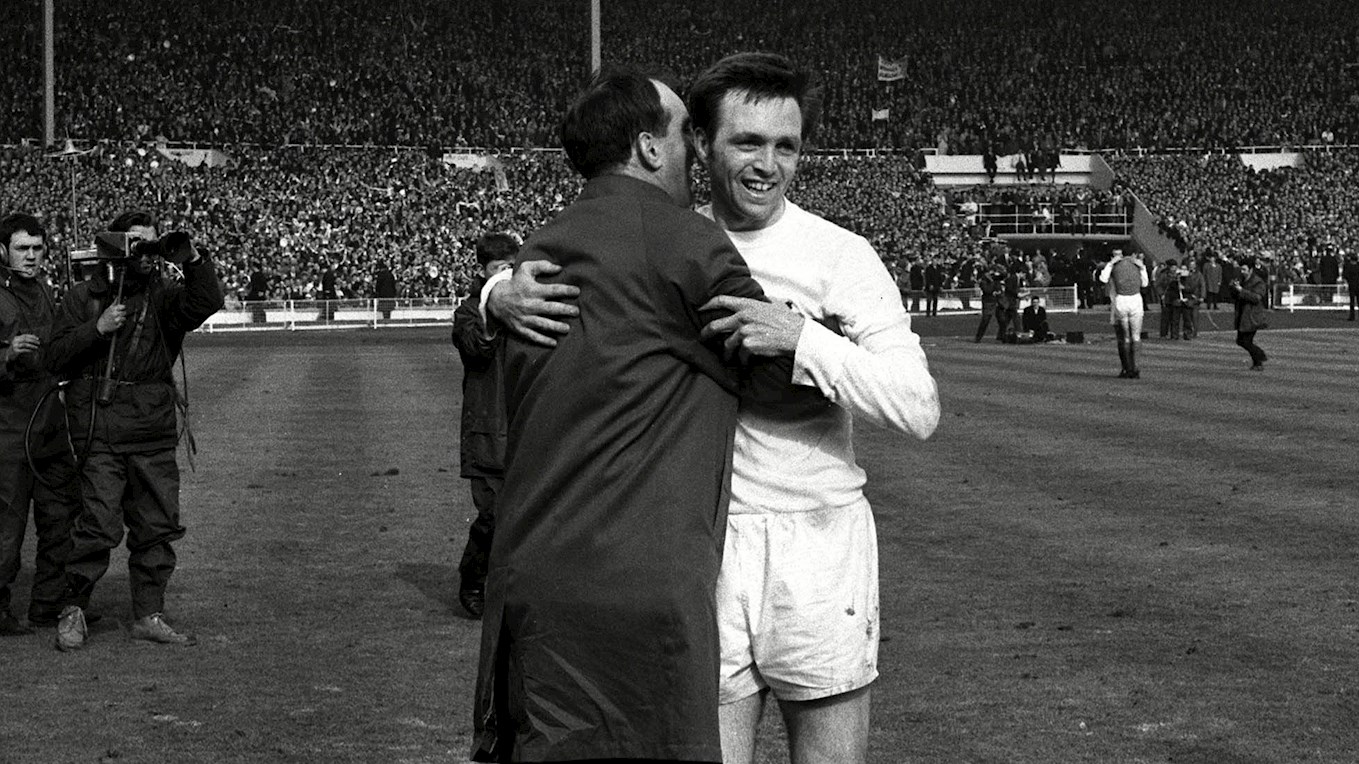 THE MAN WHO WOULD BE KING: Ashman congratulates Astle after the final
Albion were abysmal and returned home beaten by a Third Division team, a crime that had cost Hagan his job when his team did the same to the rather more accomplished QPR at Wembley Stadium a few months before. The players were summoned to Spring Road the following day and discovered that there was another side to Alan Ashman. Left in no doubt that their form was unacceptable, there would be no more Mr Nice Guy until the players regained his respect.
This they did by pulling the collective finger out and gradually rising up the league table, such that by Christmas they were just in touch with the leaders. More significantly, they were running into form just as the FA Cup was ready to kick off. The closest of escapes came when a last minute Colchester goal was ruled out for no apparent reason in the third round and we had the chance to duff them up in a replay. Southampton and Portsmouth were despatched on the south coast, then Liverpool over three games in round six, evidence that by then, Ashman had helped create a rare atmosphere at the club, a dressing room spirit that had players ready to run through walls for each other.
He was no mug when it came to tactics either, seeing the potential in moving John Kaye back from his role as Jeff Astle's strike partner to fill the problem space in central defence alongside John Talbut. The Throstles suddenly shifted to what was effectively 4-5-1, a system that was even more attuned to the phenomenal goalscoring instincts of His Holiness Tony Brown.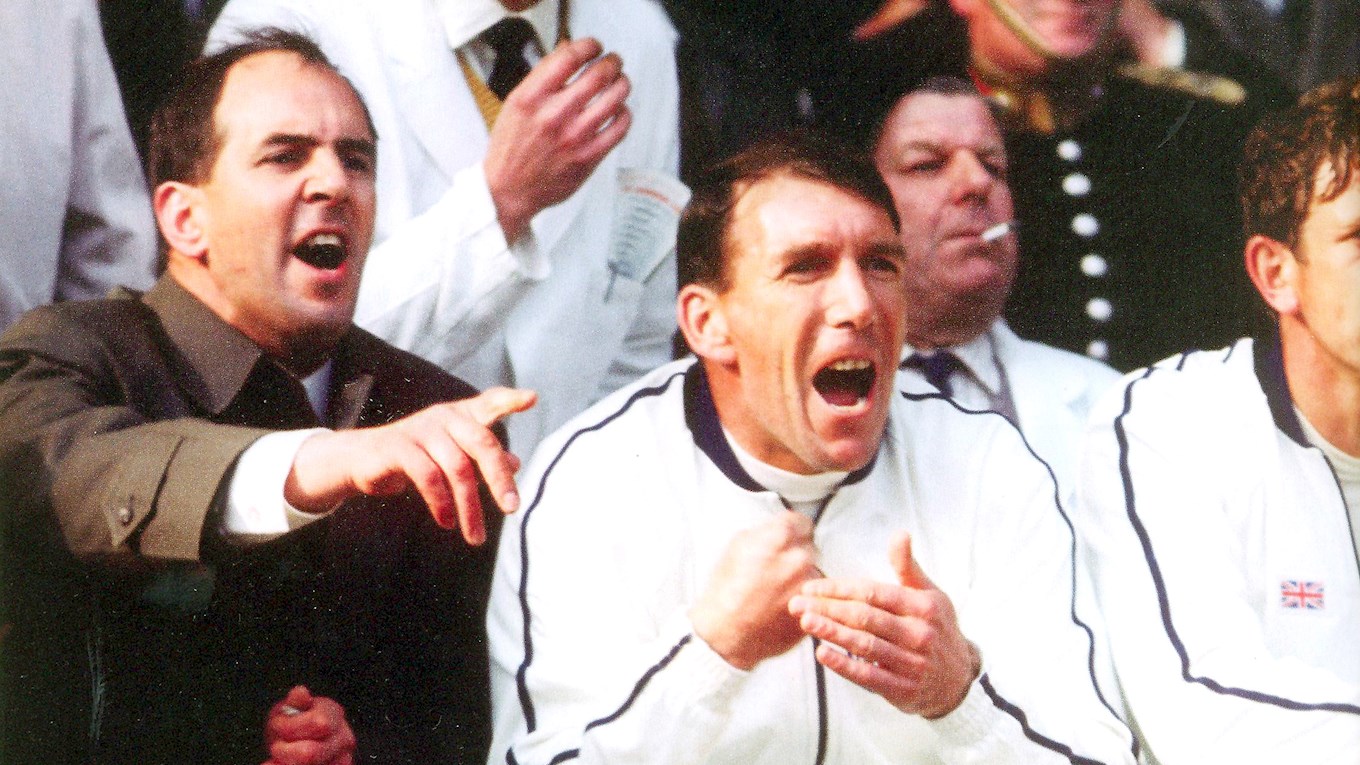 WATCHING ON TOGETHER: Ashman alongside trainer Stewart Williams
That was the line up that saw off Birmingham City in the semi-final and put us through to Wembley. We ended the season in a creditable eighth, and then Ashman took his charges away to prepare for the final against Everton. Half a dozen hours after leading the team out at Wembley, he was at the after dinner banquet, the FA Cup in his arms. So proud was he of his achievement that he wouldn't let the silver pot out of his sight all evening along, spending most of the night cradling it like a baby. And he didn't have to change it either, though they did feed it, mostly on champagne.
As it turned out, that was the high water mark of the Ashman reign, though there were still plenty of excitements to come. The relationship between manager and players settled into a comfortable one, the players no longer chancing the collective arm, Ashman letting them off the leash sufficiently to know that when he really needed them, he could rely on them absolutely. That, and Albion's cavalier approach meant that the league was always problematical for while we could blitz pretty well all comers at The Hawthorns, away form was, at best, dreadful, and often far, far worse.
But when the cup competitions came calling, home or away, Ashman and his charges were energised. Making a great fist of defending the FA Cup, the Throstles made it all the way to the semis once again, paired with Leicester City, on their way to relegation, while in the other game Everton were taking on Manchester City, making a repeat of the 1968 final eminently possible.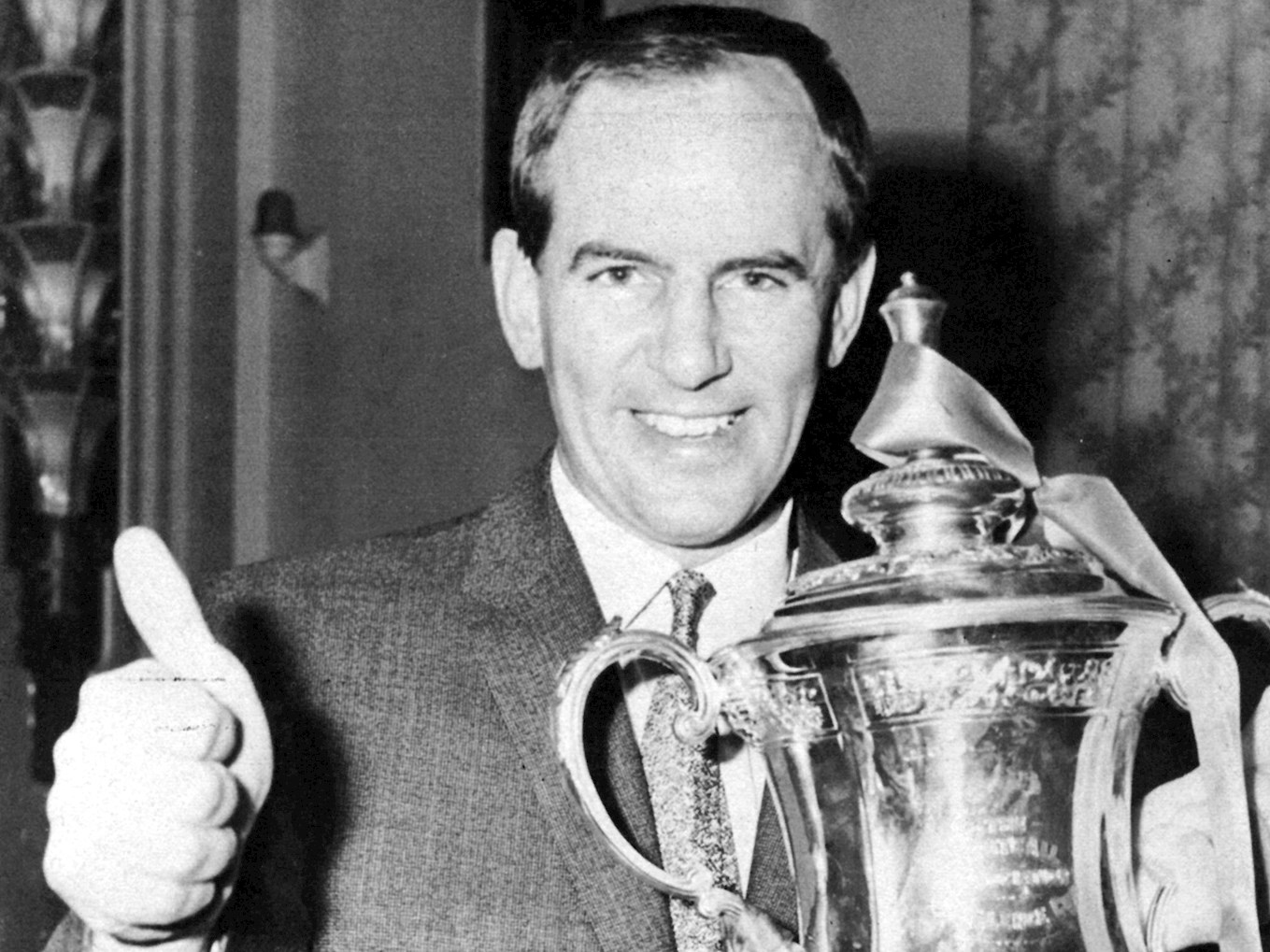 THUMBS UP FOR THE CUP: Ashman celebrates Albion's '68 cup win
As it happened, we both lost, Albion in the most depressing of circumstances, late on at Hillsborough as John Osborne, hero of the '68 run, let a weak Allan Clarke effort go straight through him. Our next FA Cup tie was also at Hillsborough, losing to Sheffield Wednesday in round three the following year, though the day was marked by Tony Brown scoring perhaps the greatest goal of his career as consolation.
By then though we were already on the way to Wembley in the League Cup, Ashman even having the thrill of taking his side back to Carlisle United in the two legged semi-final as we came through to confront Manchester City in the final. In a week where the country was snowbound, Ashman struggled to get his team out to do any meaningful training, presiding instead over games of table tennis and the odd abortive round of golf.
Played on a mudheap better suited to the Grand National than a grand football occasion, the Throstles eventually succumbed 2-1 in extra time. In the aftermath, Jimmy Gaunt, club chairman, stood up and said, "I'm sick of coming to Wembley. It's about time we won the league". Given that we've been to Wembley three times in the intervening 48 years, he got half his wish...
Under pressure to turn Albion into the very antithesis of what we were at a period in the game when leagues were won, more often than that, by the negativity and professionalism – and money – of a Leeds or Arsenal, Ashman was really being asked to betray his instincts. 
It was a compromise that never really convinced and we endured another season of inconsistency without even a cup run to lighten the load, though there was the amazing 2-1 win at Leeds to give Don Revie a nervous breakdown in front of the TV cameras as we took the league title away from him.
Off on holiday in sunnier climes in order to recharge the batteries in that summer of 1971, Ashman idly picked up a copy of an English paper and turned first, as we all do, to the sports pages. It was as well he did. He discovered there was no need to hurry home for we'd sacked him.
He genuinely didn't hurry him, coaching for a year or so in Greece with Olympiakos, but the call of the north was to prove too strong and a year later, he was back as the boss of Carlisle United, still in Division Two.
Within two seasons, they were in Division One, winning promotion in 1973/74 ahead of the Albion, then back in Division Two for the first time in a quarter of a century, under the leadership of his Hawthorns successor, Don Howe. The chickens had come home to roost.