This article appears in full in Saturday's Albion News, which is on sale around The Hawthorns, priced just £3.50.
ALBION's Technical Director Nick Hammond is one of the most experienced in the football world. Respectful of the club's values, he likes to encourage everyone to work together to achieve success. But as Nick explains, through all his years in the role, there has never been a summer quite like this one.
"This was a particularly complicated window for us at the Albion, indeed for the whole football world. The prices being quoted for some players this summer was quite incredible compared with where they might have been a year ago. This is where you have to have a sensible approach and be proactive and creative rather than panicky and reactive.
"Only then can you deliver what the club needs and what the head coach wants. Tony understands value and he demands we bring in players who understand the DNA that he has created here. He has had to fight for success throughout his career and, because of his upbringing, like a lot of us at the club, he emphasises the fact that hard work is just as important as talent. Without talent the team can't grow. Without hard work, consistent success is often elusive.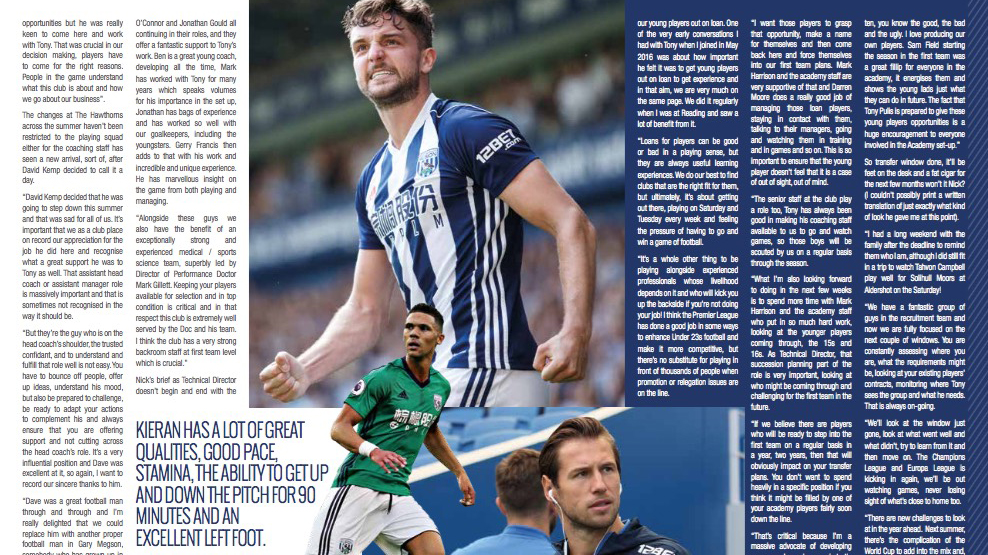 "There were players we looked at and quite frankly, the prices being quoted were way beyond what we saw as value. You have to recognise the way the market is, there are times when you have to be prepared to pay a premium, but you have to keep some sense of reality and be mindful of the long-term future of the club 
"Fortunately, we have a very experienced executive leadership here. Chairman John Williams has seen it all over the years and is a firm hand on the tiller, Richard Garlick has been at the Albion a long time now and has huge experience, Martin Goodman has been involved in football finances for a long period and brings a sensible and questioning style that is a critical quality in a good CEO. It's so important that the people in the discussions with Tony and myself understand the business and are challenging in their questioning.
"Most importantly, the support that we've had from Mr Lai has been outstanding. He trusts in us to do the best for the football club, and has continually shown his confidence in the people on the ground here to get the job done. That is extremely helpful and very encouraging. I think that support from our owners was the foundation for us to go and do some strong deals across the course of the window. As the window evolved and some huge, historic deals entered the market, Mr. Lai understood the challenge and gave us even more support".
Our Technical Director's phrase "across the course of the window" is a telling one, because you never can sum up its success or failure until the clock strikes 11 on August 31st. Patience, you will recall from your days at Sunday School, is a virtue, one that's in increasingly short supply in the modern world.
Read the full interview with Nick Hammond in Saturday's Albion News - where you will also find an exclusive interview with Gareth Barry and Club Chairman John Williams. Albion News is available to purchase at stalls around The Hawthorns, priced just £3.50.