Albion have frozen early bird season ticket prices for a fourth successive year as the club prepares to welcome back fans to The Hawthorns.
The Baggies expect to be back at full capacity for the 2021/22 Sky Bet Championship season, with fans returning in large numbers for the first time since the COVID-19 pandemic took hold in March 2020.
Adult prices from £329

Under 11s just £49 throughout the stadium

Buy online at tickets.wba.co.uk for the cheapest prices

Two options to spread the cost of your season ticket
Season tickets at The Hawthorns continue to offer supporters some of the best value football in the country – with a £329 adult season ticket equating to just £14.30 per game, while under-11s will watch each match for just £2.13.
Supporters who purchased a 2020/21 early bird season ticket before sales were suspended will automatically see their ticket renew for the 2021/22 season and will be sent a stilecard before the season begins.
Season tickets are available to all and 2019/20 season ticket holders will have their existing seats reserved until early bird window closes at 5pm on Wednesday, July 7.
The club's ticketing website, tickets.wba.co.uk, offers the best value to supporters purchasing a season ticket, with online sales £10 cheaper than via the ticket office or by telephone. 
New stilecards will be issued to all 2021/22 season ticket holders prior to the start of the season.
Click here for more information regarding 2021/22 season tickets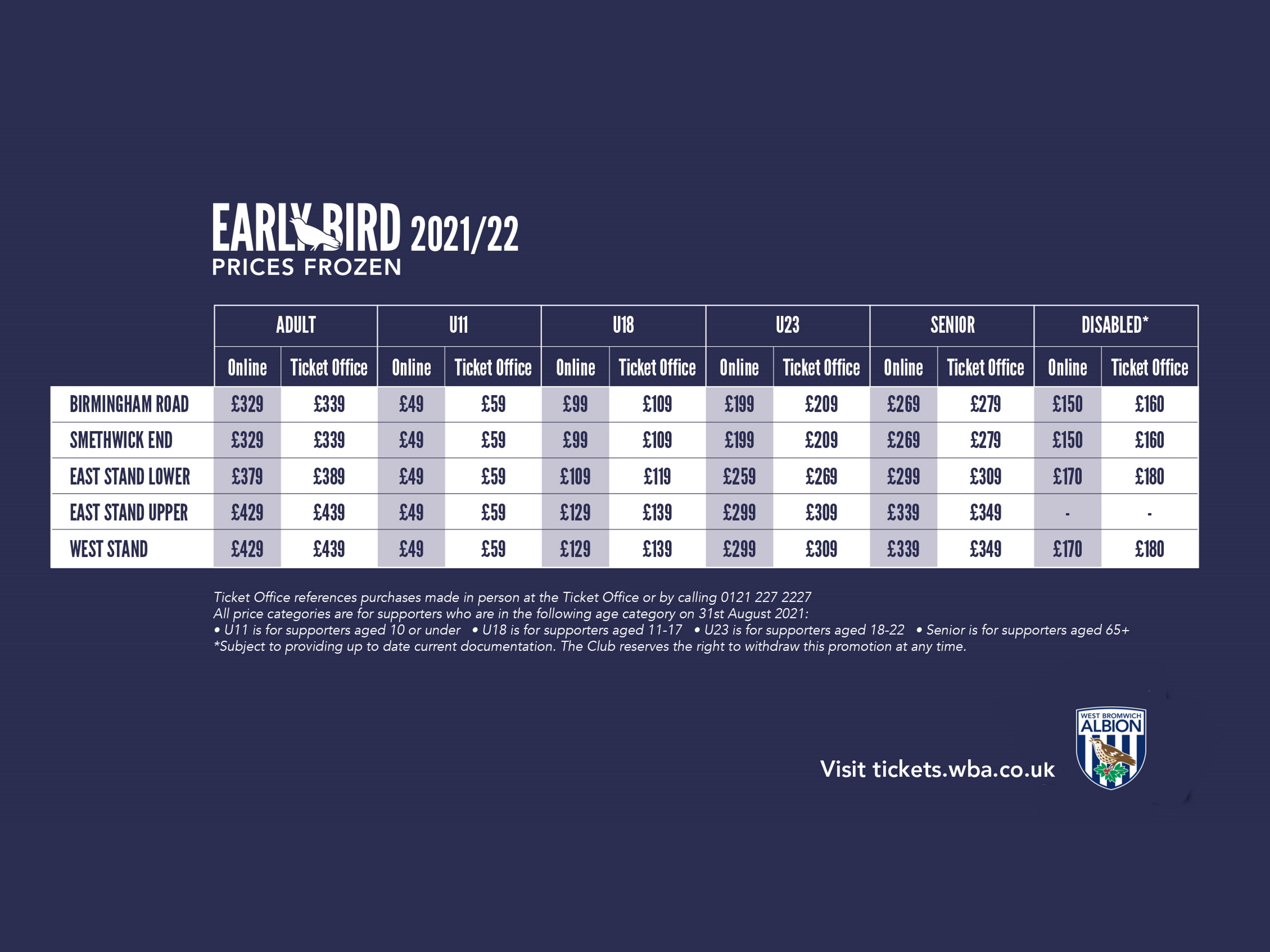 How to Buy
The cheapest and easiest place to purchase a 2021/22 season ticket is online at tickets.wba.co.uk. Supporters will require a My Albion Single Sign On account – that must be linked to their Customer ID - to renew. Supporters can renew on behalf of their friends and family providing they are linked to their My Albion account.  
For details on setting up your My Albion Single Sign On account, click here.
You can also buy direct from the Ticket Office during the opening hours of 10am to 3pm, Monday to Friday and 9am – 12pm on Saturdays or by calling 0121 227 2227.
If you received an e-credit as a refund for the remaining games of the 2019/20 season this will be automatically deducted from the price of your season ticket renewal. To check your balance log in to tickets.wba.co.uk and click on 'Account' to view your available balance.
Spread the Cost
There are two ways to spread the cost of your 2021/22 season ticket:
Purchase with an Albion Mastercard - this option is only available to current Albion Mastercard holders.

Spread the cost over 10 monthly repayments with V12 Retail Finance. Click here to find out more. If you have e-credit please contact the Ticket Office if you'd like to use this payment method.
Season ticket holder benefits
As well as your seat at every home league fixture during the regular 2021/22 season you will also receive:
Priority to purchase your seat for home cup matches

Priority to renew your season ticket for the following campaign

Priority to purchase home and away match tickets

£5 Albion Reward Cash credit*

Access to WBA TV+, a new video platform with exclusive content at no additional cost

Live streams of all PL2 home matches OR FREE admission to PL2 matches played at The Hawthorns
*Available to season ticket holders aged 18 and over
Covid-19
While we hope to be welcoming back fans to The Hawthorns with no restrictions in place, we are still awaiting the Government's confirmation that this will be the case. If, for any reason, fans are not able to attend games owing to enforced limited capacities, or, if fixtures are played behind closed doors, season ticket holders will be offered alternative option for any matches that they are not permitted to attend, details of which will be confirmed at the time.
Away Season Tickets
Albion will confirm away season ticket details once there is greater clarity on the number of fans permitted to travel.
New Ticketing System
You may notice that your online ticketing experience is different to the last time you purchased online with us. We are delighted to be partnering with SecuTix as our new ticket system provider. SecuTix will be working with us to provide an enhanced ticketing experience for our supporters.