Albion wing-back Josh Shaw hopes to continue his morale-boosting stint in the club's PL2 side when Aston Villa visit the New Bucks Head on Monday night (ko 7pm).
Villa present the first of a double-header of derby matches for Richard Beale's side in Premier League 2 Division 2, with a trip to Birmingham City to follow next week for the young Baggies.
Left-sided defender Shaw began the 2021/22 campaign with the Baggies' under-18s, but the 18-year-old has seamlessly stepped up to match the standards set at a higher level in the U23s.
Shaw in FA Youth Cup action at The Hawthorns
And with the Manchester-born youngster pushing for another start in Monday's local derby, focus is set on being the right side of "fine margins" as Albion look to produce another entertaining performance.
Shaw said: "I think the way the coaches have drip-fed me into games and given me chances has eventually allowed me to take my opportunity at this level.
"At the start of the season I was on the bench and every minute on the pitch helped me, whether it was coming on after 60 minutes or at half-time.
"Now I feel settled at this level and I've really found my feet in 23s football, but I just need to push on now and listen to the advice that Bealey and the other coaches give me.
"When you're playing with players with the quality that, for example Ray Tulloch has, then it's only going to help me. At this level it's about the fine margins because they can define us creating a goalscoring chance, or the other team doing so.
"I love it when we keep the ball but obviously throughout the 90 minutes, we're not always going to be able to keep the ball for long periods.
"There will be times when the opposition will have their spell on the ball, but it's all about being concentrated, staying focused and when they do make mistakes, we need to be alert to punish them.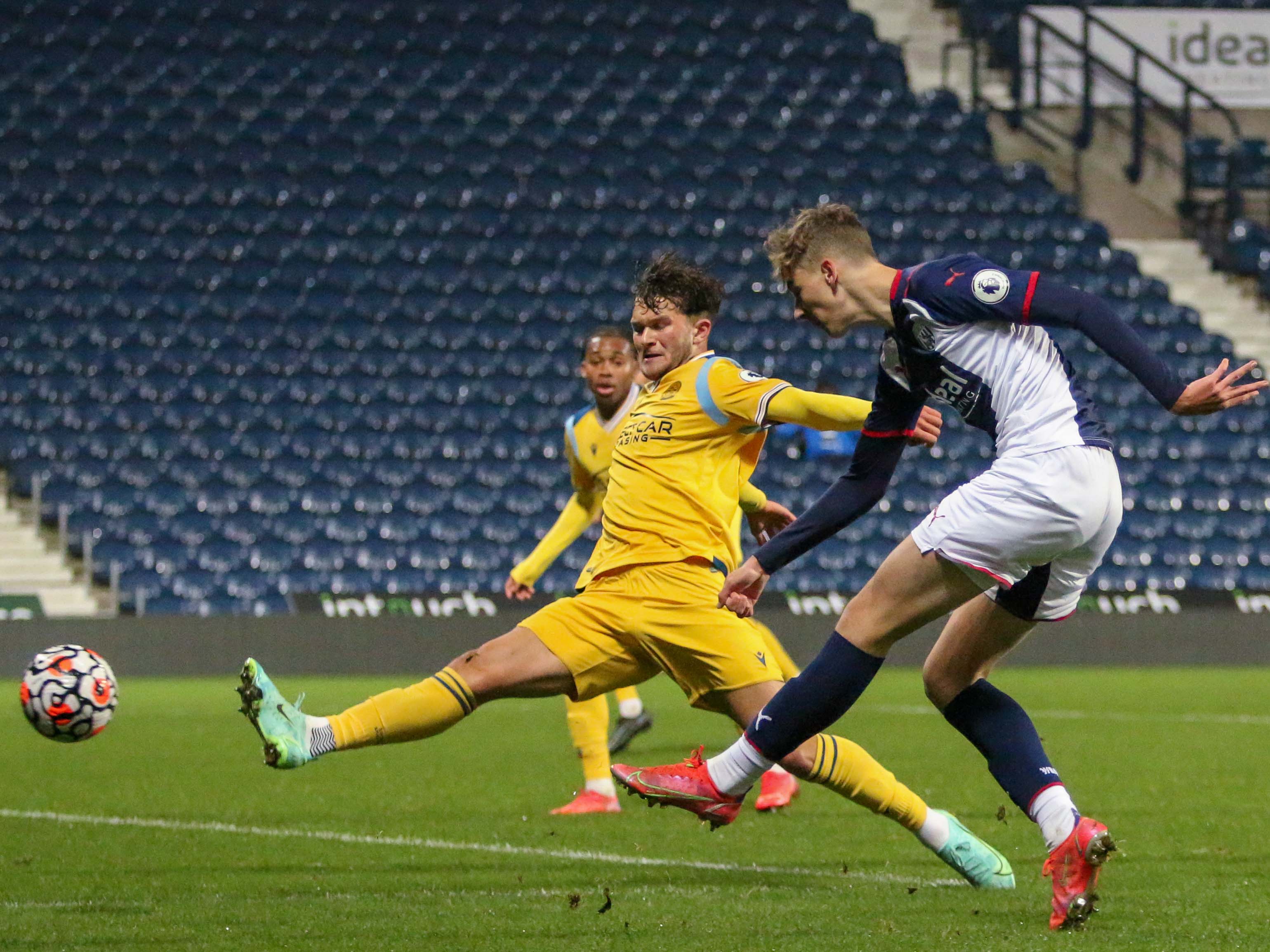 Shaw competing against Reading in PL2 (credit: GEvans Photography)
"It just goes to show how much technical ability and good decision-making you have to show at this stage.
"Following the formation that the first team use, we do a lot of work in training on movements, how we can shift the ball, the runs in behind and how high the wing-back and centre-backs can get during the game.
"We've been starting to show a lot of what we're working on in training in the 23s games this season, and I love the freedom that the five in defence gives me down the left side. It's the same with the 18s playing at left-back in a four-man defence, you just have to be aware of the counter.
"It's always good to get a win, especially if we could get one in a derby game and to get one against Aston Villa would be huge. They're big rivals for us and it's a massive occasion for us players and the coaching staff.
"It's our job to cut out the few mistakes we've made in previous games, stay focused, wait for our opportunity and with the attacking players we've got there's always gong to be goals."
How to follow the game
Tickets will be available for Albion's PL2 clash with rivals Aston Villa at the New Bucks Head on Monday evening.
Season ticket holders can watch the match for free, while the prices stand at £5 for adults, and just £1 for juniors on the night.
Alternatively, season ticket holders and members can also enjoy a live stream of the match. Click here and log in with your My Albion account linked to your season ticket or membership.
The stream will begin 10 minutes before kick-off (6.50pm).
If you haven't yet set up your account click here for instructions.
If you have any issues logging in please contact myalbion@wbafc.co.uk